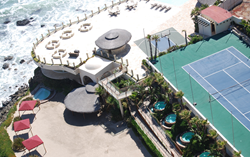 - March 18, 2014 /MarketersMEDIA/ —
"This has dumbfounded the addiction researches and they want to know more about Johnny's system"
Johnny The Healer's Special Protocol the "Pouyan Method" Breaks Addiction to Opiates, Alcohol, Cocaine, Meth and other Drugs in 7-10 Days With No Withdrawal Symptoms and or Toxic Pharmaceutical drugs
LOS ANGELES, CA, March 18, 2014, Drug addiction has plagued mankind since the dawn of time. The physical and mental pain associated with trying to break a drug's biochemical and psychological hold can be a torturous experience, frequently impossible to withstand, and in many cases, even when successfully weaned, the cravings will resurface and lead to relapse. Oftentimes "treatment" programs merely replace one addiction with another addiction to a different substance, never addressing the underlying cause of drug use. But a new proprietary system has been developed by a prominent drug treatment center called The Holistic Sanctuary, located in Baja California. Radically different from any other treatment program because it focuses mind body and soul, it's called the "Pouyan Method," and it has received growing attention for its ability to cure even the direst of addictions like heroin, alcohol, crack and meth, with zero withdrawal symptoms and the brain resets in less than 10 days.
Johnny The Healer developed his special Pouyan Method, "its meaning; the seekers method" which – holds true to its promise as a holistic addiction cure expert – The Healer combines plant based medicines like ibogaine and ayahuasca and more importantly adds custom complementary medicine along with additional therapeutic, powerful, and proven methods, like daily amino acids and vitamin IV drips, daily motivational therapy, sauna therapy, massage therapy, energy healing, energy medicine, super foods, reiki/chi-gong/pranic healing, hyperbaric oxygen chambers, ionic sea salt baths, fresh organic meals cooked by a personal chef and other healing arts which treat the whole human being. Other outdated drug rehabilitation and treatment centers which treat patients as just another addict who has to claim to be incurable and then take more pharmaceutical drugs that are highly addictive and very dangerous with side effects sometimes worse than the actual drug they were addicted to.
The plants, herbs, and roots that Johnny The Healer (See Special Video Here) uses are derived from Africa and Peru. These plant based medicines have been used for incurable illnesses and diseases for tens of thousands of years successfully and legally around the world, excluding The United States of America and Belgium. Westerners who wish to break free from the bondage of addiction through non-conventional 12 step based rehab models have sought out plant based medicines as an alternative therapy with extremely high success rates and great satisfaction. Not only curing their addictions but also curing the root of the problem that CAUSED their addictions.
What's even more powerful is the before and after brain scans of patients treated with the Pouyan Method show a stunning repair of damaged cells, literally restoring the brain to its pre-addicted state of purity. "We are aware of the risks involved when working with addicts and the addiction field as well as the dangers of taking people off pharmaceutical drugs," says the founder Johnny the Healer. "Our highest concern is the patient's safety. With hundreds of patients and thousands of successful treatments we have had no issues. This is because of our pretreatment protocol, our exams, blood work, EKG's and our highly trained teams of medical doctors and nurses who are by the patient's side the duration of their stay. We use only natural and organic, GMO free, nontoxic foods and holistic medicine. We never use toxic medications from pharmaceutical companies that cause serious side effects. Instead, the patients leave our facility feeling reborn, healthy and pure with a clear sense of wellbeing, addiction free without the cravings associated with traditional 'so called' rehabs.
The common sense here is let food be thy medicine, not toxic Suboxone Methadone and Xanax. All drug rehabs and so called expert addiction doctors use only toxic drugs. If you see their arsenal they offer, its talk therapy and more drugs, toxic drugs that cause more harm. Einstein put it beautifully, "You cannot fix a problem with the mind that created it" Meaning you cant fix a chemical problem with more toxic chemicals. You can't give people a drug that causes horrific side effects, addiction in its self is a side effect. Addiction is a side effect of a few factors, your lifestyle your friends you choose to allow in your inner circle, the food you eat, and negative thoughts. You can't band aid a disease that was caused by drugs or toxins. You have to realize and accept all pharmaceutical drugs from big companies are toxic. They all have serious side effects, this is a known fact. You walk into a drug rehab center for heroin addiction, the first thing they do is give you addictive drugs. They get you off illegal drugs and quickly put you of legal drugs, but both drugs are toxic. If you walk into the The Holistic Sanctuary you will be taken off heroin in 3 hours "Permanently, with no pain and no withdrawals" Then following 7 -10 days resting the brain.
"You can't just give someone these plants and herbs and walk away expecting them to snap out of their addictions," explains Johnny The Healer. You must give the addicts brain the building blocks it needs to help repair it like amino acids and neurotransmitters and peptides in addition to all the holistic modalities we synergistically incorporate. Over 35 hours of one on one holistic healing treatments per week, "that's the highest in the world". 
Anyone seeking to explore the Pouyan Method and The Holistic Sanctuary for themselves or for a loved one is encouraged to visit: http://www.theholisticsanctuary.com or call (323) 606-9904.


Distributed by
Press Release Distributors
Media Contact
Company Name:
The Holistic Sanctuary
Contact Person:
Attn: Media Relations
Email:
johnnythehealer@yahoo.com
Phone:
323.606.9904
City:
Los Angeles
State:
California
Country:
United States
Website:
www.theholisticsanctuary.com/
Source:
www.getnews.info
Release ID: 36674