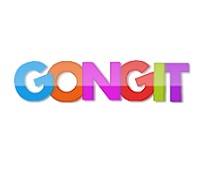 - March 26, 2014 /MarketersMEDIA/ —
With an official launch date set for July 1, 2014, Gongit.com is driven by the passion of helping others by linking jobs and clients. The site will link individuals in need of work and clients who want to get a job done for a fair price. Want to help a family out of a tough time while getting some painting done? With a free job posting on Gongit.com you can do both.
March 26, 2014, Maryland - USA. The adage 'times are tough' may sound cliché unless someone is willing to help. That's where Gongit comes in. If you need a service (plumbing, lawn mowing, computer programming) and don't have the skill or time to do yourself, just go to www.Gongit.com.
The site drives contractors to your virtual door with bids. You get to pick the right person, at the right time, for the right price. The premise is simple. Post a job (any job) and find people ready and able to do the repair or service in your area. Entrepreneurs and unemployed/underemployed skilled people are out there; Gongit helps you find them.
Thanks to crowdsourcing the 'buy in' is extremely low. The developers wanted to help individuals who need it the most. For just $1 — anyone can opt in. That one dollar gets you a free month of service bidding. The more you donate the bigger the bang and perks. With impactful crowd sourced funding via indiegogo just $25 gives contractors three months of service bidding (that's less than a fancy latte a day). Perks increase and provide some serious potential return on investment — right up to a lifetime membership. This company is about helping real people make profitable connections. The more shares and posts online the more people you are helping out of a tough spot. Participating in Gongit may even lead to your next mortgage payment. The founders understand everyone goes through tough times.
For less than a latte, start growing your business and paying the bills. Clients benefit from free job listings and don't waste time and energy running around finding a contractor. Bids are put forward to the client who retains total control over the selection process. You pick who gets the job and for what price. The bonus is knowing you've given someone a helping hand. Gongit is poised to be a gold mine in the waiting for enterprising new businesses struggling to get off the ground and any business lacking flashy advertising budgets.
While pre-registration is open now, Gongit.com won't be launched for business until July. Since web content is still being built, the company is encouraging everyone to register early and take the site for a 'test drive'. Currently fundraising via http://www.indiegogo.com/projects/support-gongit-com-put-people-back-to-work is dedicated to crucial promotions and advertising in advance of the launch. Since this company is all about helping make connections — they can't wait to reward you (and friends) for sharing their links widely on Facebook and Twitter. The bigger the buzz, the more people you help. Get involved at www.Gongit.com
Media Contact
Company Name:
GongIt
Contact Person:
Corey
Email:
Send Email
State:
Maryland
Country:
United States
Website:
http://www.indiegogo.com/projects/support-gongit-com-put-people-back-to-work
Source:
www.abnewswire.com
Release ID: 37875