Tula, Italy - February 1, 2023 /MarketersMEDIA/ —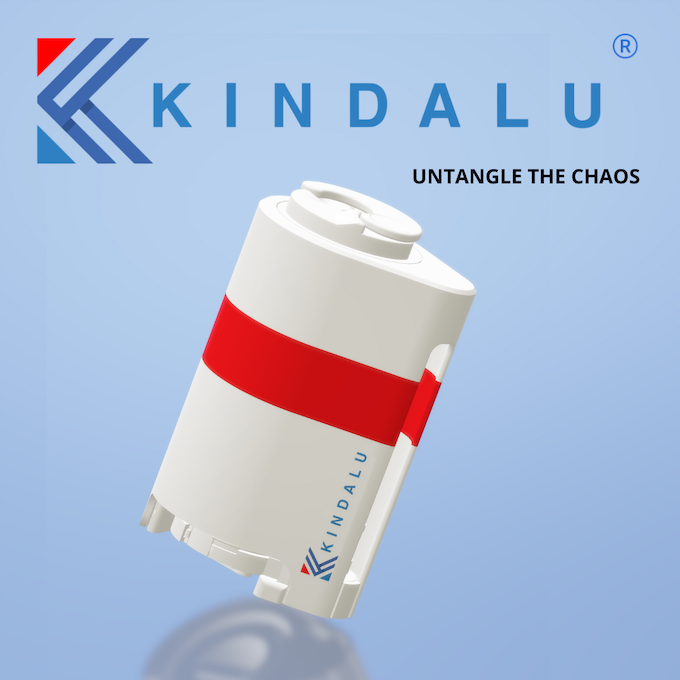 Kindalu, the revolutionary new cable case with nearly unlimited cable storage capabilities, is live on global crowdfunding platform Kickstarter and raising funds to bring the project to life. 
In today's world, everyone seems to be drowning in cables and cords from their backpacks to their desks. Tangled cables can knot and even fray, compromising them, and even making them dangerous. Finding the right cable and cord can in the moment can be frustrating and they can get tied up and knock other items over. Kindalu is a registered, breakthrough ergonomic and modular design hoping to solve the constant messy problem.
"The inspiration behind this project stems from the need to eliminate the hassle and need to manage and unravel cables every single time. I looked for a device that had the specifications I wanted, I couldn't find it and so I decided to produce it myself," says founder and CEO Daniele Schintu. "I wanted a device that was not only ergonomic and that could be turned with a wave of the hand, but I wanted one that eliminated once and for all knots, blockages, overlaps and whose movement was fluid, natural and intuitive. It was meant to become an extension of the cable itself. And so, after many tests and prototypes, the Kindalu was born. The name derives from the Sardinian language: it is an ancient spinning wheel, a tool that transforms the tangled skein of cable into an orderly thread. I was looking for a name for the device and the name found me."
Kindalu is a versatile and simple design that utilizes a turning crank system to wrap cords internally allowing users to extend or shorten the cords as needed. Its ergonomic design fits in a hand and is available in three different sizes; each offering various cable length storage capabilities. All Kindalu models are 3D printed using reliable PLA Bioplastics as the main material for maximum durability.
"Kindalu is a better solution to the market alternatives because it wraps the cable separating each coil neatly thanks to the synchronous design: this avoids blocks, knots and all makes the movement very fast and fluid, moreover it is compatible with almost all cables, as long as respect the dimensions of the diameter and can be joined to USB cables, chargers, audio jack cables etc. Hardly have all these features been gathered in a product, I didn't find it, that's why I designed it," adds Schintu.
Kindalu is currently live and available for support on Kickstarter: www.kickstarter.com/projects/15065611/kindalu-the-only-cable-case-youll-ever-need 
About Kindalu s.r.l.s.
Kindalu s.r.l.s. was born as a startup focused on the design and production of products mainly through 3D printing. Currently, the core business is focused on the development of the homonymous case, in all possible declinations and versions to enter and grow all possible markets, both the most immediate and the potential ones.
For more information on Kindalu s.r.l.s. please visit kindalu.com
###

Contact Info:
Name: Chris Woods
Email: Send Email
Organization: Kindalu s.r.l.s.
Website: https://kindalu.com

Release ID: 89089432