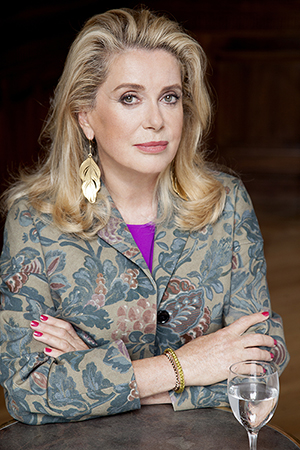 - March 18, 2014 /MarketersMEDIA/ —
Toronto, Canada / Uniworld Boutique River Cruise Collection will inaugurate the newest addition to their award-winning fleet, the S.S. Catherine, in Lyon on March 27, 2014. Inspired by French elegance to reflect her home along the Rhone and Saone rivers, Super Ship S.S. Catherine will be christened by her Godmother and namesake, legendary French actress Catherine Deneuve.
Catherine Deneuve is world-renowned for her timeless beauty and boasts an esteemed acting career spanning more than 50 years. Perhaps most well-known for her roles in "Belle du Jour" and "Indochine," she has been nominated for dozens of international acting awards and was chosen by the European Film Academy last December to receive a lifetime achievement award. Considered the muse for Yves St. Laurent, Ms. Deneuve has also been the face of Chanel No. 5, L'Oreal, Louis Vuitton, MAC Cosmetics, and many others.
"We are so excited to have Ms. Deneuve as the Godmother to our new Super Ship, S.S. Catherine," said Guy Young, president of Uniworld. "She exemplifies everything our new Super Ship represents: classic sophistication, beauty, elegance and grace."
The S.S. Catherine will sail the regions of Burgundy and Provence on two of Uniworld's most popular itineraries, "Burgundy & Provence" and "Grand France." She will have a 159-passenger capacity with 79 staterooms, five luxurious suites and one Royal Suite. All suites and staterooms on the top deck offer full open-air private balconies, which convert to enclosed conservatories with the touch of a button. Staterooms on the middle deck feature French balconies, and all suites and staterooms enjoy Uniworld's one-of-a-kind touches such as handcrafted Savoir(R) of England beds and beautiful marble bathrooms. Public areas include the Van Gough Lounge, full-service Bar du Leopard, Cezanne Restaurant, an al fresco terrace, a mosaic-tiled resistance pool and the Serenity River Spa.
For more details, please visit uniworld.com or connect with Uniworld Boutique River Cruises at facebook.com/uniworldrivercruises or twitter.com/uniworldcruises.
About Uniworld Boutique River Cruise Collection
Los Angeles-based Uniworld Boutique River Cruise Collection, the world's only authentic boutique cruise line(TM), is recognized among the "World's Best River Cruises" by Travel + Leisure. Uniworld has also been recognized in their "Top 20 River Ships," with seven ships ranking in the top 20, along with the River Countess earning the highest score of all cruise ships, both river and ocean. Uniworld has been named in Conde Nast Traveler's prestigious Gold List for seven consecutive years and in their Platinum Circle for three years. Uniworld was also ranked in their top three among the world's "Top Ten" cruise lines, both ocean and river. Uniworld's staterooms and dining are also ranked among the "Top Three in the World" by Zagat Survey(R), with Uniworld being the only river cruise line named in the Zagat Survey(R) amongst the best of the best in the cruise industry. The editors of Cruise Critic handpicked Uniworld's S.S. Antoinette as the "Best River Cruise Ship," and Cruise International awarded Uniworld for the second year in a row, the "Best Luxury River Cruise Line." In addition, Uniworld has the highest rankings by travelers on Cruise Critic for both river and ocean cruise lines. Uniworld features luxurious boutique ships with an average capacity of 130 guests and the highest staff-to-guest ratio in the river cruise industry, as well as included shore excursions, world-class gourmet cuisine, and award-winning hospitality. Uniworld offers over 500 departures sailing on more than 15 rivers in over 20 countries throughout Europe, Russia, Egypt, China, Vietnam, and Cambodia.
Uniworld is a member of CLIA, Cruise Lines International Association
About The TreadRight Foundation
Uniworld Boutique River Cruises is part of a joint initiative with The TreadRight Foundation, a not-for-profit foundation established by The Travel Corporation to encourage sustainable tourism within our own family of brands and in the places we visit. To date, TreadRight has donated more than US $2 million to sustainable tourism projects around the world. To find out more about our work with TreadRight visit: www.TreadRight.org.
- ENDS -
Media Contacts:
Michelle Lee Hoy
PR & Digital Media Specialist
The Travel Corporation, Canada
michelle.leehoy@travcorp.ca
(416) 322-8468 ext. 7295
Marie Anne MacRae
Director of Public Relations
The Travel Corporation, Canada
marieanne.macrae@travcorp.ca
(416) 915-7016
Release ID: 36331