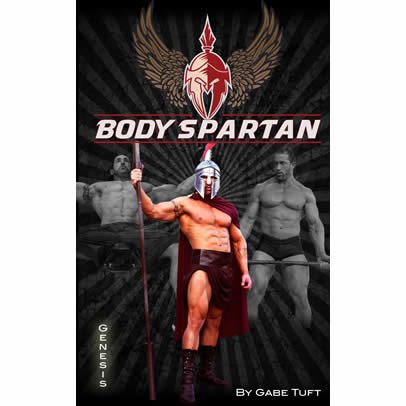 - March 20, 2014 /MarketersMEDIA/ —
Rohnert Park, CA / March 20, 2014 / Former WWE Superstar and retired professional wrestler, Gabe Tuft (stage name: Tyler Reks), has launched his new fitness e-book titled, Body Spartan: Genesis. Since the launch of the website last Friday, the e-book has sold well over 2,000 digital copies. In addition to individual purchasers, two health clubs have acquired several copies of the e-book for promotional giveaways on their social media accounts.
Tuft's e-book is the result of 10 years worth of nutritional research and over 21 years of experience in the health and fitness industry. His wife, Priscilla Tuft, is a master sports nutritionist in the State of California and has co-authored the nutritional section of the book. Tuft was motivated to write the book after he retired from professional wrestling to spend more time with his family. He stated:
"After I retired from professional wrestling I continued to receive inquiries on social media about fitness, almost daily. After answering the questions one-by-one for months I decided that it was time to gather up all of my fitness and nutritional knowledge into one document so that everyone would have the opportunity to know my fitness secrets.
I've been in "TV-ready" shape for as long as I can remember and experimented with every workout and nutrition program known to man. My goal is to save people from the trial and error process I've gone through and give them one clear, concise program to follow that will absolutely get them results."
Body Spartan: Genesis is broken into three parts. The first, is the main body of the book that includes a section on motivation, goal setting, tips on lifestyle dieting, supplement reviews, and a 12-week anabolic shredding diet. The second part of the book is Tuft's 12-week workout program while the last section of the book includes several recipes that go hand and hand with the nutrition program in the book.
The Body Spartan workout program is also available in an app for the iPhone. Tuft utilized a gym and weight lifting tracking app called Gym Genius which allows users to track their progress to their fitness goals with workout data. The entire Body Spartan Workout Program can be uploaded to this application by visiting this page.
The Body Spartan website is currently offering a special package through the end of March that includes the e-book and access to a custom nutrition program for just $2/month. The subscription for the custom nutrition program retails on the site at $49.99. To view this special package, click here.
Gabe Tuft is the author of a new fitness book called Body Spartan
About Body Spartan:
Bodyspartan.com is dedicated to providing the latest, cutting edge fitness, nutrition, and supplementation information so that you can meet and exceed your fitness goals. We are the first fitness site to be comprised entirely of a group of professional athletes and international TV superstars that have dedicated their life to fitness and whose careers depend on their physique. Each member of the team has been carefully selected due to their specific knowledge and strengths as it pertains to fitness, workouts, supplementation, and nutrition plans and/or guidelines.
Our goal is to change as many lives as possible by passing on the knowledge that we have amassed through years of sculpting our own physiques.
Media Contact:
Gabe Tuft
info@bodyspartan.com
http://www.bodyspartan.com/
Release ID: 37082