United States - November 25, 2022 —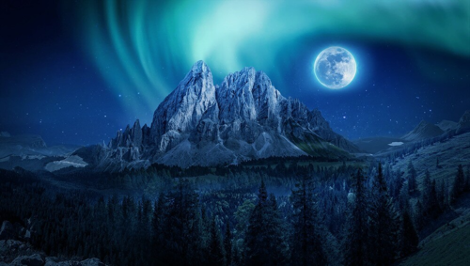 Theta state occurs in limbo between the sleeping and wakeful state, heavily influencing the subconscious mind. This state is typically achieved during sleep where the subconscious mind reigns, but children aged 13 and younger frequently experience it through imagination and while exploring new things for the first time.
Adults can reach the theta state by meditating and achieving strong internal focus; in turn, both the body and mind are deeply relaxed, bringing about a variety of health benefits, such as increased energy, feeling younger, and bolstering the immune system.
Dr. Mitchell Gibson, the founder of Tybro Productions has recently published an audiobook detailing the best methods to enter a reproducible theta state titled "Blue Star Meditation Audiobook".
As stated by Dr. Gibson, this planetary meditation harnesses the power of the Blue White Giant, a stellar entity emitting strong theta brain waves:
"The Beautiful Blue Star Meditation is a powerful inducer of theta brain waves. The sound that is used in this meditation is emitted by a star, billions of miles away from our solar system. This star is a beautiful Blue White Giant. It is a highly evolved and vastly intelligent being that continually emits some of the most powerful theta waves in the universe," said Dr. Mitchell Gibson.
Theta waves have been linked to powerful sensations and sensations, as well as memories. Access to some of the purest elements that comprise a person typically exists during a small window of time; even if such experiences are relished, most people "forget" them upon waking up. With the Blue Star Meditation, a spiritual practitioner can learn to enter the theta state at will.
Dr. Gibson, who frequently uses this very meditation personally, imparted that "Blue Star Meditation" aims to help the spiritual practitioner feel more relaxed, energetic, and healthier, stating:
"In ancient times, Taoist shamans used the sounds coming from the stars in order to attune their consciousness to the gateways that line the universe. Boosting theta brain waves can improve your health by making you feel younger, giving you more energy, and improving your immune system. Each of the "slower brain waves" produces wonderful health benefits," Dr. Mitchell said.
Dr. Mitchell also imparted that it takes practice and patience to efficiently harness the power of deep theta brain waves. An "overload" may cause the person to feel slightly scattered, as a different part of the mind typically governs theta frequencies.
Minimal effort to mastering and successfully harnessing the power of theta waves is required if the practitioner leverages the help of "The Blue Star Meditation" audio download.
More information about Tybro Productions is available on the company's official website.
Contact Info:
Name: Mitchell Gibson
Email: Send Email
Organization: Tybro Productions
Address: United States
Website: https://tybro.com/the-blue-star-meditation-audio-download/

Release ID: 89085456