Turkey - March 15, 2023 —
Despite the coronavirus outbreak briefly slowing it down, Turkey's health tourism sector is thriving again. With Turkey's Ministry of Health recently publishing record figures for 2022, IdealofMeD announced that it has completed the purchase of the multi-million-dollar Hairtransplantation.com brand.
According to recent reports, Turkey's Ministry of Health estimates that over one million health tourists received a hair transplant in Turkey in 2022, amounting to approximately half of the total income generated by the health tourism industry.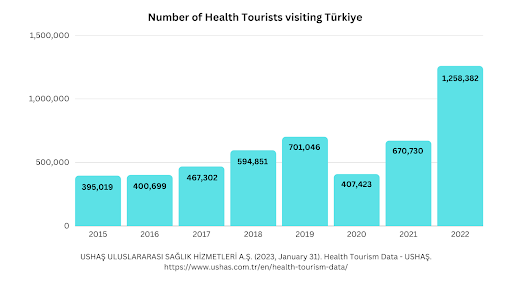 IdealofMed acquired Hairtransplantation.com valued at 5 MUSD, a bit more than the 4.8 million USD eHealth paid for Medicare.com in 2014. The acquisition is in line with IdealofMeD's aspiration to broaden its dominance in the upper-level market segments, in a sector where records are being broken at an unprecedented rate. IdealofMeD is one of the leaders within the exclusive hair transplant field in Turkey. 
The motivation for the purchase of Hairtransplantation.com is given by Nordic industrial investor Cem Arel, one of the company's founders: "Turkey, and particularly Istanbul, is the global medical hub for health tourism, and we as investors in this segment expect the market to grow even further. The goal of Hairtransplantation.com is to develop into an integral part of our established global offering, and widen our patient base across segments."
Turkey And IdealofMed Are Set To Confirm Their Health Tourism Status In 2023
There is every reason to believe that the hair transplant market will continue to grow in Turkey and reach new record-breaking numbers in 2023.
"The country's extensive investments in the health and medical-tourism fields have made it easier for medical institutions in the premium segment to operate and invest in Turkey and elsewhere" according to IdealofMeD co-founder Jorn Elferink from the Netherlands. "Turkey's health system has undergone a record-breaking transformation in recent years and Turkey's government put measures in place to both regulate the industry and promote its growth. Among these initiatives are tax exemptions and subsidies for medical institutions focusing on patients from other countries."
According to the renowned International Society of Aesthetic Plastic Surgery, Turkey is one of the top 3 nations for health tourism. The fact that Turkey's educational system upholds a high standard, particularly in the medical sector, is an important factor. The country's universities see comparatively more doctors graduate each year than countries such as the USA, France and New Zealand. 
The new Istanbul International Airport, which is expected to cost US$23 billion and fully complete its construction in 2028, represents Turkey's own determination to make tourism-related investments as well. In terms of the total number of runways, airfields, and passengers served, it is expected to become the biggest airport in the world. While it's hard to predict how many passengers will use the airport, it's setting the stage for new record-breaking numbers in 2023 - especially when combined with the investments IdealofMeD is making in the market.

Contact Info:
Name: Jorn Elferink
Email: Send Email
Organization: IdealofMeD
Address: Turkey
Phone: +90 212 700 05 89
Website: https://idealofmed.com/

Release ID: 89091903