United States - March 14, 2023 —
The storage and display of handbags have become easy and convenient with the invention of the Tote Hanger by Jacki Easlick.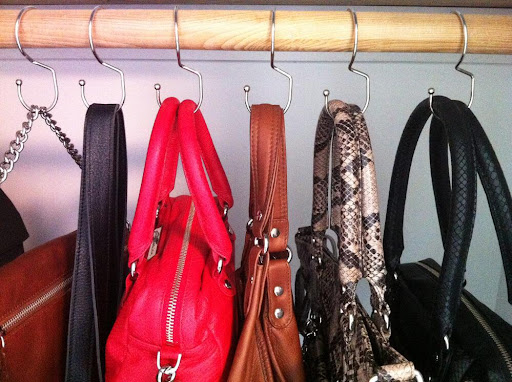 The Woman Behind the Designs
Jacki Easlick is a renowned Design Director who has worked in the fashion industry for decades. She's worked for acclaimed brands such as Kenneth Cole Productions, Steve Madden, and Victoria's Secret. Her expertise extends to designing for Hollywood superstars like Hilary Duff. 
Speaking to Jacki Easlick herself, "As a handbags enthusiast and designer, efficient storage for my handbags was a priority. It took a lot of deliberation and effort to settle upon the final product, Tote Hanger. Our metal hooks are the perfect accessory to make your closet organization convenient and easier to maintain. It isn't easy to optimize cupboard storage with handbags; with our purse hangers, customers can easily sort bags according to their preferences. Whether you need to sort by color, use, or designs, the Tote Hanger makes it effortless."
Simple Yet Innovative Design
The lightweight bag hooks are uncomplicated and easy to place, with a creative design without being too complex. It is installed in seconds by simply placing the purse hook on the metal rod like a traditional clothes hanger.
The Tote Hangers are premium metal hooks perfectly compatible with conventional metal rods in most people's homes. These bag hangers are compact and durable, made of Nickel, and are approximately 4x2 inches in dimension.  
The bag hooks are perfect for organizing one's bags in a chic and orderly manner. For most people, displaying their bags individually on a shelf takes too much space; the metal hangers allow customers to make efficient use of their storage space and be aesthetically pleasing. 
Jacki Easlick prioritizes tough and resistant products that are simple but effective to withstand the weight of the bags. Jacki states, "These seemingly simple hooks require careful craftsmanship to ensure the hooks don't bend under the bag's weight or damage its surroundings. We use the best quality materials to create sturdy and long-lasting hooks."
A Multipurpose Product
The Tote Hanger can be utilized in many different ways. Despite its intended use as a handbag hanger, the hooks are great for hanging other accessories, including long necklaces or ties for display. The hooks can also be used to hang and organize craft supplies, kitchen utensils, and even tools. 
Top-notch Products 
The Tote Hanger is a patented and trademarked product, guaranteeing premium quality materials with no risk of receiving a counterfeit. 
The customer reviews for the handbag hooks are overwhelmingly positive, with many complimenting its convenient design. Its rave reviews have made the Tote Hanger one of Amazon's bestseller items.
Available at Various Stores 
The Tote Hanger is sold at Container Stores, Wayfair, Lowes, ToteHanger.com, and JackiEaslick.com. Each packet retails for 9.99 USD and contains six polished metal hooks.
Conclusion
The Tote Hanger by Jacki Easlick is an innovative accessory, perfect for closet organization and transforming it from messy to meticulous in seconds. The trademarked product is one of a kind being lightweight, durable, and easy to use.
For further queries, please get in touch with the company via the information listed below.

Contact Info:
Name: Jacki Easlick
Email: Send Email
Organization: Tote Hanger®
Address: United States
Website: https://jackieaslick.com/products/tote-hanger

Release ID: 89091853