Canada - November 17, 2022 —
Tracy Emerick's engaging book offers an ingenious point of view as he looks at the common ground between business magnate Steve Jobs and religious leader Jesus Christ – two individuals that are incredibly different and even apparently opposite. In the book, Tracy is able to explore both entrepreneurs over time and compares their mission and motive.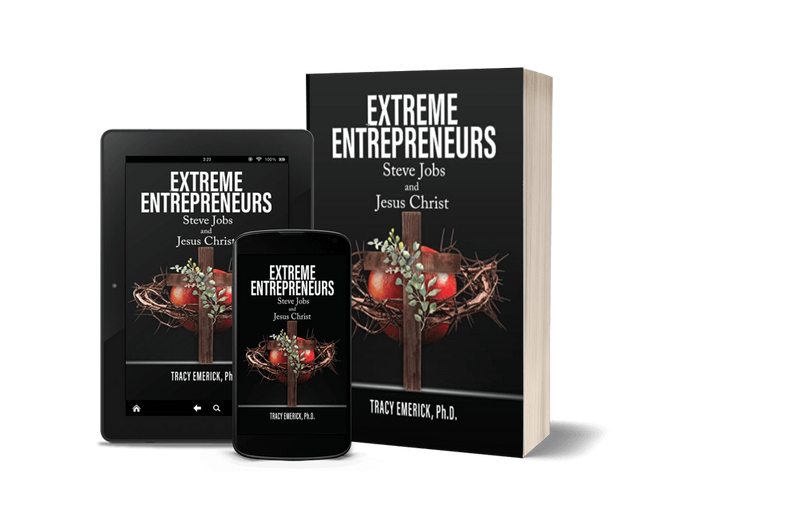 Renowned author Tracy Emerick has earned global recognition after releasing "Extreme Entrepreneurs: Steve Jobs and Jesus Christ," a self-help book that explores how the soul manifests itself in people's lives. 
In the book, Tracy is able to compare Steve Jobs and Jesus Christ, looking at their respective influences on humanity. Each one was an entrepreneur in some way. Jobs, an American entrepreneur, industrial designer, business magnate, and media proprietor, was undoubtedly an entrepreneur by profession, providing a product none had seen or used before. 
Jesus Christ, on the other hand, was as well in his way, as He led the way in teaching humankind that reaching out to neighbors with souls and open hearts is the ultimate way to live a good life. "Extreme Entrepreneurs: Steve Jobs and Jesus Christ" is an interesting take on making a mark on the world.
In a review, Susel Dezzani lauded the author for providing an excellent and different perspective on entrepreneurship.
"It is clear and certainly thought-provoking. I was really interested in this reading. I have never seen Jesus as an entrepreneur, but after reading this book, I could see it clearly. Steve Jobs' life is really interesting and as soon as we hear about him, we think of entrepreneurship. All in all, the book is a very good read," writes Susel.
On the other hand, Haiam, another reader, described the book as "certainly an interesting read," as he praised the author for comparing Steve Jobs and Jesus Christ due to their massive contributions towards society overall. 
"It's a self-help book in a way that allows you to understand how to connect with your soul and allows it to guide you into something more," writes Haisam.
Evelyn, meanwhile, said Tracy was able to bring "something different" to the table.
"It aims to show the connection between people who've contributed massively towards this world, and examples would be Steve Jobs, Jeff Bezos, and Jesus. It's an interesting book with very different views, and it's a good read for someone looking for something new," writes Evelyn.
Those who want to grab a copy of "Extreme Entrepreneurs: Steve Jobs and Jesus Christ" may purchase it on Amazon and Barnes and Noble. 
Bookside Press, a leading Canada-based company, has led the pack in bringing out author Tracy Emerick's engaging book to the public, providing many authors exclusive access to publicity.

Contact Info:
Name: Arabella Boyce
Email: Send Email
Organization: Bookside Press
Address: Dynamic Funds Tower, Yonge and Adelaide St E.
Phone: 7148861775
Website: http://booksidepress.com/

Release ID: 89084735