New York, United States - May 23, 2023 —
After a hiatus of over four years due to the pandemic, The Great Gotham Challenge has announced they will be premiering a new Challenge course along 42nd St for their event, The Great Gotham Challenge MMXXIII, on June 10th, 2023. The large-scale immersive puzzle adventure's last in-person event was a massive success in 2019, and this marks the event company's return to creating new scavenger hunt courses for both public and private clients.
After premiering the event for the public in June, any company, team, or organization can contract GGC for their own private event along this course, or one of their other adventures elsewhere in NYC.
The event, described as a mix of The Amazing Race, Sleep No More, and National Treasure, is played on the streets of New York City and sees participating teams of two to four race across Manhattan find and decode a series of interactive clues that intertwine with the city's rich history and culture. The first team to finish the challenge and arrive at the final destination receives the grand prize, and is crowned champion for bragging rights.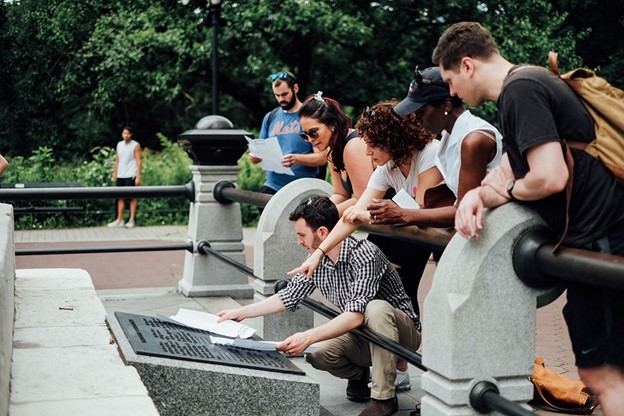 Speaking on the occasion, Ryan Patch, co-founder of the challenge, said, "While the world has dramatically changed since we last debuted a new challenge in 2019, we've grown in ambition and skill as puzzlemakers and event organizers, and we can't wait to show what we've been cooking up. Our amazing Clue Creation team, who have a background in virtual reality design, the film industry, performance, music production, interactive gaming, and immersive theater, have been working for over six months on this challenge, and we think this will amaze everyone, especially people who are ready for something different than a typical 'scavenger hunt.'"
The event is the brainchild of creative agency and production studio Gotham Immersive Laboratories, which have a track record of delivering immersive activations and frontier storytelling initiatives for forward-thinking brands. Their range of services over the years focuses on immersive marketing, interactive puzzle hunts, virtual teambuilding, and other narrative events.
Co-Founder Jon Seale said "The event is perfect for both residents of Gotham or any eager puzzle-solver that can travel here by June. We invite any detective, code breaker, historian, or investigator to join us to have the time of their life in the greatest city on earth."
According to the NYC team building company, admission fee for each team of four will be $199. Participating teams can either consist of two to four members. The challenge will involve an estimated two miles of foot travel with no motorized private transport allowed. All the details, such as the starting location, will be shared 24 hours before the event.
Gotham COO Theresa Piazza expanded about how their work creating work for the public feeds into their events that help companies focus on team building. "We love that we have both a cult following for our public events, but are able to use what we learn in this context and open them up to our corporate teambuilding events for large groups in NYC."
About the company
The Great Gotham Challenge is a project of Gotham Immersive Laboratories, a world-renowned production studio and creative agency. Their projects emphasize participant agency, immersion, world-building, narrative, gamification, and strategy, all while maintaining a focus on elegance and delight. They create custom puzzle events and other bespoke experiences for companies looking for boutique and large-group teambuilding experiences for companies with employees who have "seen it all" and want something truly and shockingly original. 
Contact Info:
Name: Ryan Patch
Email: Send Email
Organization: The Great Gotham Challenge
Website: https://info.ggc.nyc/

Release ID: 89098245