Kelowna, British Columbia, Canada - May 25, 2023 /MarketersMEDIA/ —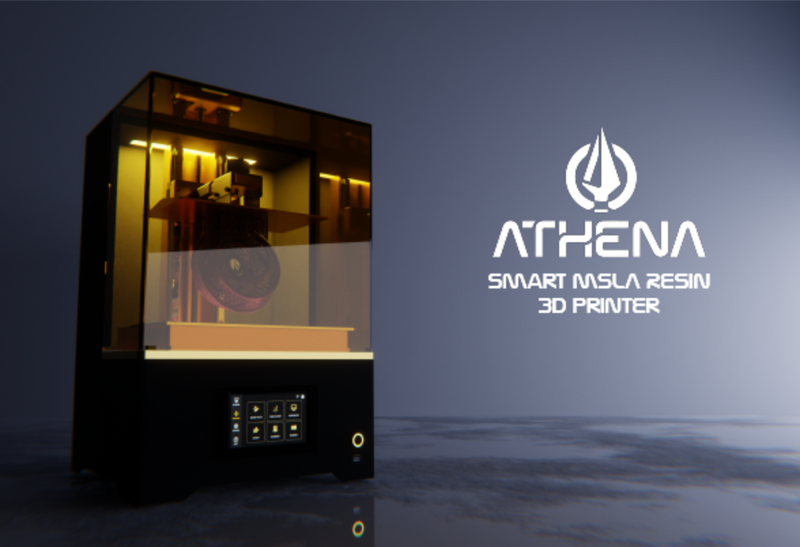 Athena, the revolutionary new mSLA Resin 3D printer from Concepts 3D Systems, is live on global platform Kickstarter and a breakout crowdfunding success story having already raised more than double their initial raise goal. 

Anyone who has ever spent any time creating with a 3D printer knows that the worst part of the experience is always waiting during long printing times, sometimes made all the worse with all-too common print errors. The Athena is a breakthrough new 3D printer utilizing their innovative new Force Sensor Technology to offer unmatched speed and precision for printing.
"I have always been a tinkerer and inventor of sorts. In 2012 I started thinking about how I could create a novel type of 3D printer, and I started experimenting with using monochrome LCD screens to act as a mask for UV light to selectively expose some photosensitive resin," says founder and CEO Nico Martin on the inspiration behind the project. "I was told it was not possible, but I discovered that with just the right type of LED and Lens setup you could make it work. This started my passion for developing resin 3D printers, and it has been my dream to finally release my own resin 3D printer to the market."
Athena makes 3D printing seamless and efficient so creatives can focus on what they do best— create. It is a printer built for both enthusiasts and newcomers alike offering a fun and easy experience. The Athena is powered by the innovative Force Sensory Technology, which enables it to print 60% faster than the average 3D printer all while ensuring reliable and accurate printing with real-time fault detection. The force sensor also detects resin levels, measures viscosity and detects failed or detached parts. It also includes crash detection, high force detection and over-exposure detection. All of these features work together to allow users to quickly and easily create, design and build anything they can imagine.
"Athena is a culmination of years of research and development into mSLA 3d printers and brings something innovative and new to the consumer resin 3d printing industry. Making it easier, faster and more reliable for anyone to produce high quality 3d models," adds Martin.
The Athena mSLA Resin 3D Printer is currently live and available to support on Kickstarter: www.kickstarter.com/projects/concepts3d/athena-msla-resin-3d-printer
 About Concepts 3D Systems
As a team of passionate 3D printing enthusiasts, we've faced our fair share of frustrating setbacks with slow printing speeds, wasted resin due to failed prints, and the time and material-consuming process of determining optimal printing parameters. That's why we decided to embark on a journey to develop a 3D printer that would solve these pain points and bring value to our fellow makers and creators.
For more information on Concepts 3D please visit concepts3d.ca
###
Contact Info:
Name: Chris Woods
Email: Send Email
Organization: Concepts 3D Systems
Website: https://www.concepts3d.ca/

Release ID: 89098468