United States - January 24, 2023 —
But now there is a way that one's eating habits could go beyond simply "doing less damage" and start actually making a positive impact for some of the world's most endangered species, most abused animals and least privileged human beings.
That's the ambitious goal that rapper/activist turned entrepreneur Gaia's Eye (real name Gabriel Nadler) is working to advance with his new Animal Rights-dedicated company, Vegan Brain Food.
Based around a supplement that contains the key amino acids that are not found in plants (and exist only in very small quantities in animal foods), Gabriel is working to use the first-of-its-kind formula to spark real international impact for animals and the planet.
The first stage of this plan is based around the supplement itself, with nutrients that a small mountain of health studies on humans have found can bring benefits in the areas of working intelligence, memory, anti-aging, physical fitness, fat-burning, and immune system support.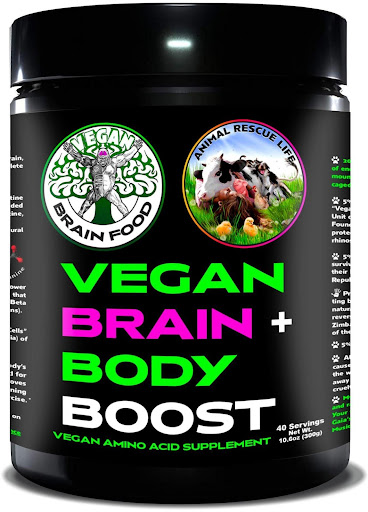 By providing some of the key nutrients that can not be found in plants, Vegan Brain Food is designed both to help people transition to a 100% plant-based diet, and to reduce the notoriously high 84% failure rate among new vegans.
But the impact Gaia's Eye is seeking to make goes beyond the physical and intellectual benefits of the supplement, which he is even giving away at cost to benefit Animal Rights activists and rescuers, with the intention of further energizing their life-saving work.
20% Of the profits from this vegan brain supplement go towards 4 different animal protection causes, working to protect the habitat of endangered mountain gorillas, rhinos and elephants in Africa, as well as supporting sanctuaries for rescued farm animals across North and South America. Protecting those rainforest and savannah ecosystems (the only way to save mountain gorillas, elephants and rhinos from extinction) also helps to address both the global climate crisis, as well as to mitigate local water shortages in communities that depend on those often undervalued "ecosystem services".

The conservation groups being supported in Zimbabwe, Congo, Uganda and Rwanda are entirely based around supporting alternative sources of income for local communities, which are among the poorest on the planet, largely by supporting women-led initiatives to develop sustainable local economies.
But the primary vision of the "Animal Rescue Life" brand, for which Vegan Brain Food is the first manifestation, is to push the entire multi-billion dollar vegan food industry towards a new paradigm and a new realm of competition, where customers actually expect their favorite brands to give a meaningful percentage of profits back to the animals who inspired the global rise of veganism in the first place.
Towards that aim the company will be coming out a whole lineup of supplements designed to support a plant-based lifestyle, and eventually with their own brand of staple foods like bread, beans and plant-based burgers, so that animal lovers everywhere have the ability to "make their money work for them" protecting animals, rather than just enriching self-serving corporations and financing their owners' mansions and yachts.
Towards this aim Animal Rescue Life will be releasing their next product, a longevity supplement for dogs and cats, later this year. 20% Of the profits from "More Dog Days" will go towards rescuing victims of the dog and cat meat industries, as well as rescuing homeless street dogs and cats, and helping them to find "furever homes".
While Gabriel/Gaia's Eye divides his busy schedule between a full-time day job and running his company, he also uses his sometimes viral music and comedy videos to advocate not just for a cruelty-free lifestyle, but to push those who are already vegan to go beyond only thinking about food and towards becoming more politically active.
Having reached over 10 million people with his videos attacking animal cruelty in the fashion and food industries, and directed the video for a successful campaign that led California to make history as the first State in America to ban animal experimentation for cosmetics, Gabriel aims to try and expand on these victories by mobilizing vegans to focus on the passage of new animal protection laws.
Amidst all of these projects he is also planning to go on tour this summer at vegan festivals across North America in support of an upcoming album. Asked how he can handle the demands of working multiple full-time professions simultaneously, he simply states: "must be the Brain Food…"

Contact Info:
Name: Gabriel Nadler
Email: Send Email
Organization: Vegan Brain Food
Address: United States
Website: http://www.veganbrainfood.com/

Release ID: 89088731