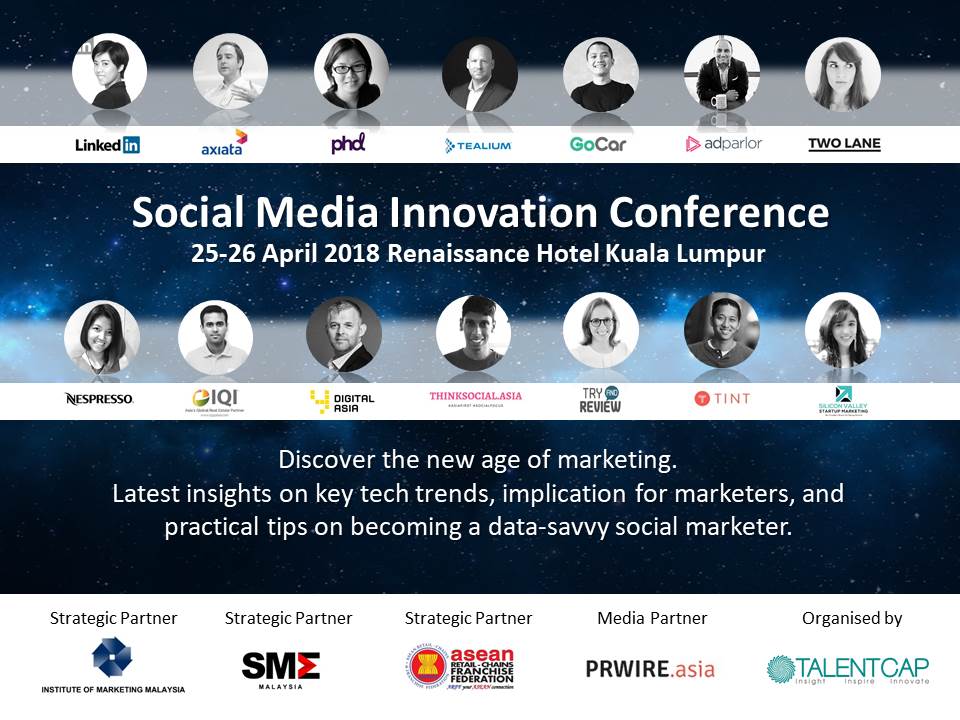 Kuala Lumpur Malaysia - March 27, 2018 /PRWIRE.asia/ —
The TalentCap Social Media Innovation Conference is a tactical conference to be held on the 25-26th of April 2018 in Renaissance Hotel Kuala Lumpur, and offers SMEs throughout the Southeast Asia the opportunity to maximise their social media marketing opportunities.
Participants shall discover how innovative global companies maintain their edge via social media marketing. The conference features practical, action-oriented social media marketing sessions from top leading experts and brands. Highlight includes a hands-on workshop by social media coach who has trained 200+ start-ups in the Silicon Valley, US.
The Social Media Innovation Conference is targeted toward key decision makers and C-levels within companies from all industries, and will cover 20+ different tactical areas of social media, including everything from video marketing, to social media ROI, to chatbots, to user-generated content, to data and analytics.
Southeast Asia which includes Indonesia, Malaysia, the Philippines, Singapore, Thailand and Vietnam, has some of the highest penetration of social network usage among internet users of anywhere in the world. However, it is critical to take social media beyond simple information sharing. A platform looking to attract a large base of users must incorporate additional functions that add value to their experiences. Empowering users to buy and send gifts, shop for products and service and share and redeem coupons without leaving the platform are just some of the ways that a network can offer a product that truly gives its customers what they are looking for.
Teaming up with the region's forward thinking and innovative organisation, TalentCap is pleased to Welcome on-board the Institute of Marketing Malaysia as a Strategic Partner at the Social Media Innovation Conference 2018. Institute of Marketing Malaysia (IMM) is a non-profit organization and the only registered institute in the country established for the purpose of serving the marketing fraternity in Malaysia. Founded in 1977, the institute has assisted and will continue to assist, train and bring together marketers from various businesses and industries with one common goal and that is to improve the marketing skills of its members.
Datuk Sharifah Mohd Ismail, President of IMM highlights "Without marketing, businesses may offer the best products or services in the industry but none of the potential customers will know about it and sales may crash. In today's marketing, social media plays a key role for business. Social media has evolved over the years from customer satisfaction to customer experience. The TalentCap Social Media Innovation Conference 2018 would greatly benefit IMM members especially among the SMEs in exploring ROI growth through social media to scale their business and penetrate new markets."
Keynote speaker Cally Lo, Regional Account Manager at LinkedIn presents the topic "LinkedIn Talent Solutions: Stay on Top of the Recruitment Competitive Landscape." LinkedIn is focusing on providing innovative talent solutions, and social media recruiting is becoming the norm.
Cally highlights, "The world has become more competitive in the talent acquisitions space. Given the global mobility of the average candidate, the freedom to switch companies at ease has become a challenge for businesses. With the more technically skilled candidates, these niche fields have intensified retention concerns to unprecedented rates leaving companies needing to become more creative in ways to acquire and retain specific types of talent."
Cally's keynote shares tactical insights on how to use LinkedIn's Talent Solutions to stay on top of the recruitment competitive landscape – What are the growth areas within talent acquisitions? What is "talent intelligence" and how can it affect your business? How can a Business and HR Leaders stay competitive in the talent war?
Keynote speaker Eileen Ooi, Head of PHD Malaysia presents the topic "Merge: The Closing Gap of Technology and Us." PHD is a global communications planning and media buying agency network delivering smart strategic thinking and creative innovation for the world's leading brands. The PHD network is part of the Omnicom Media Group, a division of Omnicom Group Inc.
Eileen highlights, "As we spend more time in the virtual world, machines will be more embedded in our lives and as machines get more intelligent we will reach a point where we become indistinguishable from one another. Technology and humanity will both symbolically and literally – Merge." Eileen's keynote provides tactical insights on the new age of advertising as merger of technology and humans happen.
Keynote speaker Tim Sae Koo, CEO and Co-Founder at TINT presents the topic "Why User Generated Content Marketing is on the Rise for the Modern Customer Journey." TINT is a user generated content marketing platform that has helped over 5000+ brands in 172 countries deliver trust across all touchpoints by humanizing their marketing with authentic customer generated content.
Tim highlights, "The modern customer buying journey is far from simple and linear now. There is an increase of number of touch points that marketers need to provide content for their audience. Not just any staged and one-sided salesy content. People don't trust those types of staged content anymore. Consumers expect relatable and personalized content as there is too much generic advertisement noise to filter through today. That presents marketers a massive headache with how much time and costs needed to keep up with personalized content demands from consumers on multiple marketing channels. Enter the UGC marketing world."
Tim's keynote shares tactical insights on; Why more top brands are investing in user generated content marketing now more than ever? How to easily implement an effective user generated content marketing strategy that's also legally safe? What brands are integrating a quality user generated content marketing strategy across their customer journey?
Keynote speaker Maelle Pochat, Co-Founder and General Manager at TryandReview.Com presents the topic "User Engagement, Story-telling & Social Media Strategies: How FMCG Brands can learn from Niche Brands." TryandReview.com is an independent website for genuine and non-paid consumer reviews in Asia which believes in giving brands the confidence to put their consumer voices front and center in marketing content strategies. Indeed, Beauty & FMCG brands can now leverage on Try and Review to get authentic user generated content and boost sales.`
Maelle highlight, "Niche brands embrace the rise of new technologies and social media marketing to deliver cheap and fast go-to-market strategies. We can see brands emerge overnight with marketing strategies based 100% on social media and user-generated content. They are agile and master to perfection the art of spotting market trends and tapping into it. FMCG brands can learn from them to run more customer-centric and authentic social media strategies."
Maelle's keynote shares tactical insights on; How to run customer-centric social media strategies? Analysis of niche brands strength in running powerful Social Media strategies. Tips for FMCG brands to increase authenticity in Social Media and reach out to new audiences.
The conference feature includes a deep dive workshop facilitated by Sweta Patel, a renown trainer who has coach more than 200 startups in the Silicon Valley, US. At the conference, Sweta facilitates the workshop topic "How B2B and B2C Use Instagram to Win New Customers"
Sweta highlights "Instagram is growing up and taking over the channels with a storm. The word says Instagram is only for millennials but it is far from it. Most businesses are using Instagram to generate leads and convert them into paying customers (if done the right way)."
Sweta will share the step-by-step method of exactly how she grew her Instagram account from 13 to 80,000 followers in one year. She didn't buy followers, didn't pay for likes, and wasn't lucky enough to be sponsored by Instagram. She's completely transparent about everything she did so you can takeaway an actionable strategy. Sweta shares actionable insights on you can explore the Instagram hacks that can save you time and money.
TalentCap has a vision to become the foremost thought leadership platform in the region, creating unmissable events that feature inspiring speakers sharing their first-hand expertise with delegates. As such, they have gone above and beyond to make this event as impactful as possible.
For those who are interested for the Social Media Innovation Conference 2018, please refer to the below on event details:
Dates: 25-26 April 2018 (Wednesday & Thursday)

Time: 9am – 5pm

Venue: Renaissance Hotel Kuala Lumpur
Limited tickets available here: http://talentcap.com/social-media-innovation-conference
About TalentCap: TalentCap produces quality information and events for the international conference industry. We recruit the best speakers, provide the best training and offer the best networking in the industry. We produce innovative, inspiring, and indispensable event solutions and services. We provide businesses with insights and contacts they need to grow. We curate content for specific industries and to facilitate dialogue and strategic thinking. We expose sponsors and partners to a highly engaged international audience. We aspire to Inspire and equip business leaders to achieve extraordinary results. For latest, please visit: www.talentcap.com
Contact Info:
Email: Send Email

Source URL: https://www.prwire.asia/talentcap-social-media-innovation-conference-2018-set-to-help-smes-to-maximise-social-media-marketing-opportunities/
Release ID: 320643