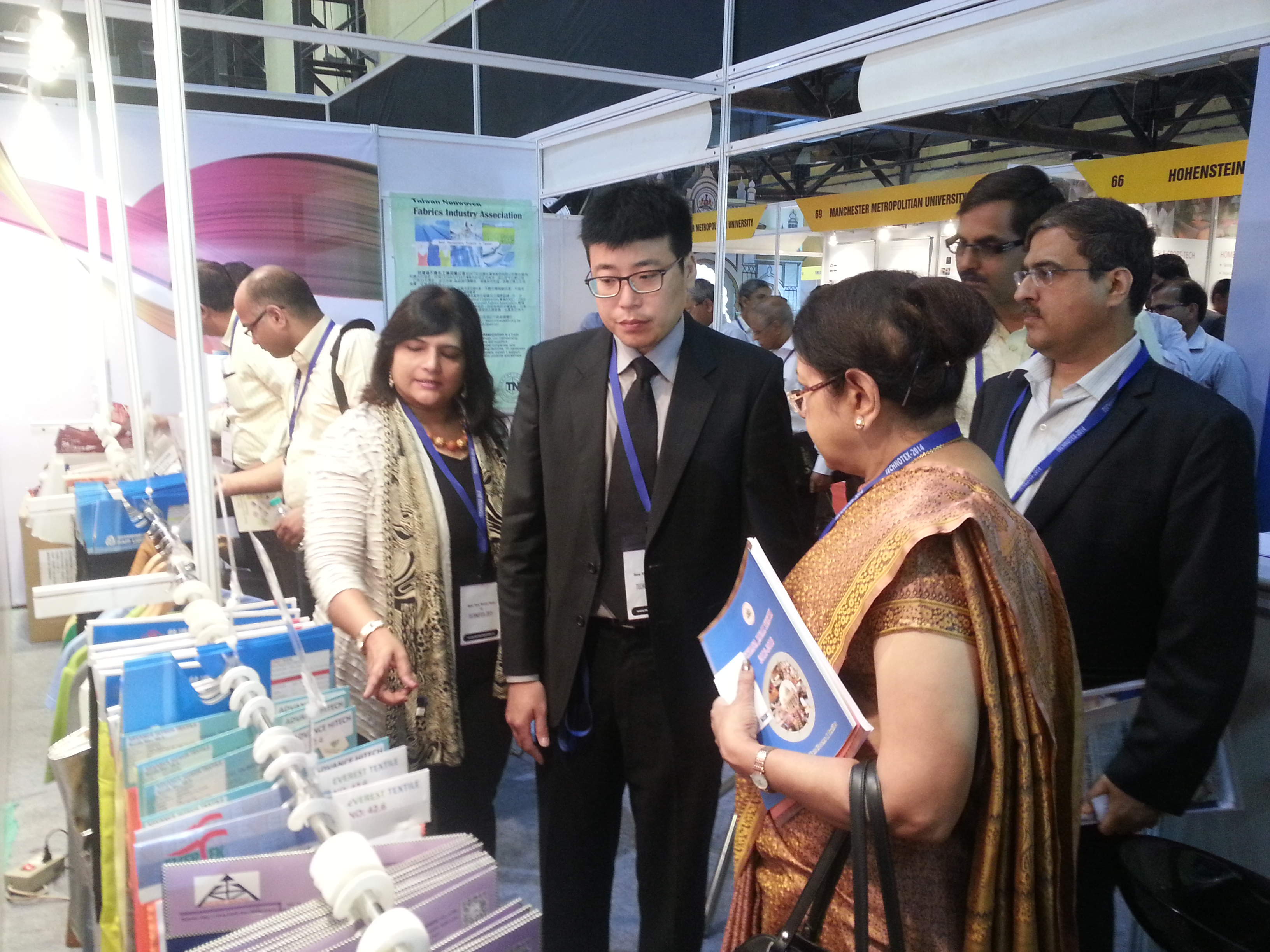 - March 24, 2014 /MarketersMEDIA/ —
Taiwan Bringing the Best in Textiles to India through this Technotex fair
India's technical textile industry is at a tipping point today. Exports are touching US$ 1 billion and domestic consumption expected to increase to US$ 14.1 billion by the year 2014. Technotex 2014 is providing the spark to ignite this industry in India on a global scale. Three day long technotex 2014, an exhibition and 3rd International Conference on technical textile has started today here at Bombay Exhibition Centre, Goregaon with inauguration by Smt. Zohra Chatterjee, Secretary, Ministry of Textiles, Govt.of India. Taiwan – One of the World's Largest Producers of Functional and Technical Textiles has also exhibits their products at Technotex 2014. Ten companies are participating from Taiwan in Technotex-2014.
Though India is the second largest textile economy after China, its contribution in the global technical textile industry is only 9% to the total consumption. World over, the share of technical textile in all forms of textiles is 65%, whereas its share is only 10-15% in India. Consumption of non-woven industry in India is $o.o4 per capita, which is very low compared to $2.73 per capita in North America, indicating a high growth potential for the sector in India.
Thus, India has great potential to make an impact in this industry in the coming decade. Sean Tsai, Market Development, Taiwan Textile Federation says, "Seeing the potential and growth in the Indian technical textile market, we are coming with 10 companies from the Protex, Sportex, Packtex, Clothex, Meditex and Indutex categories from Taiwan to exhibit and showcase at Technotex Exhibition 2014".
Compared to the traditional textile industry in India which is export related, the technical textile industry is a highly import intensive industry. To a large extent technical textile products such as seat webbings, hoses, pp spunbound fabric, baby diapers, adult diapers, wipes and protective clothing, etc. are largely imports.
Taiwan Pavilion Organised by Taiwan Textile Federation & Bureau of Foreign Trade. Top Companies from Taiwan participating at the Technotex-2014 are: Formosa, Far Eastern New Century are global enterprise. They're both into many fields and both are one of the biggest groups in Taiwan. Everest is a Far Eastern related company, have several production and sales sites oversea. (more than 3,000 employees globally), Chain Yarn, Namliong and Sheng Hung are mid-size level (500-1000 employees), but specialized and top of their own field. Chain Yarn – Technical nylon yarns and chips, Namliong – Protective fabrics and new materials. Sheng Hung – Nonwoven based materials, a very old company in its field.
The government has already projected 20% y-o-y growth in the 12th five year plan, expecting the segment to grow to US$ 36 billion by 2016-17. However, Indian entrepreneurs need to find the perfect partners to assist them in their quest to grow this industry domestically and globally.
There are over 3000 units manufacturing technical textiles, mostly in small scale sector. About 2/3rd of the production is of commodity products, only 1/3rd is high-end. The pre-dominant segments are Packtech, Clothtech, Sportech with Hometech, Meditech, Mobiltech and Geotech being very promising categories as well. These segments primarily include commodity products and are not very R&D intensive.
At Technotex 2014, Taiwan Textile Federation has put together a pavilion comprising technical textile pioneers. The innovative technical textile products showcased at the Taiwan Pavilion will include: Fireproof/Flame Retardant: Protech textiles which protect from burns, flames, convective and radiant heat, useful in uniforms for firefighters. Abrasion Resistant/Cut Resistant: High strengthen fiber-based applications for work wear, glove, military protective wear and bullet proof security vests. High Visibility: Luminescent materials used on uniforms, work gear, mobile wear and other mobiletech applications. Performance/Functional: Outdoor applications for body insulation, moisture absorption, quick dry, UV protection, far infrared, sustainable cooling and light weight. Innovative Material: "New" material technology based on lamination for luggage, shoes, bags, mobiletech and others. Industrial Non-Woven: Taiwanese industry has world class, pioneering technologies on various non-woven applications. Taiwan's companies are keen to penetrate the Indian market by forging partnerships and tie-ups with Indian textile buyers, traders, exporters, importers, public sector enterprises, marketing consultants and agents. At the same time, a large number of Indian companies have also pre-registered for one on one business interaction with exhibitors of their interest.
For more information about the Taiwan Pavilion at Technotex, log on to: www.techttf.worldexindia.com
Media Contact
Company Name:
Kommune
Contact Person:
Pallavi Sharma
Email:
Send Email
Phone:
08394901869
Address:
37 LGF, World Trade Centre, Barakhamba Avenue
City:
New Delhi
State:
Delhi
Country:
India
Website:
www.kommune.in
Source:
www.abnewswire.com
Release ID: 37551