United States - September 21, 2022 —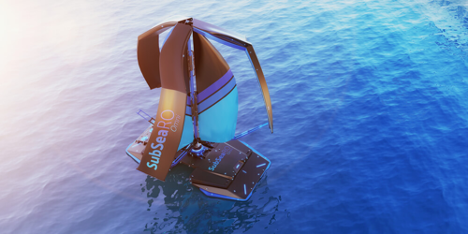 Hydro Wind Energy is bent on solving the world's water crisis by bringing an off-the-grid solution without the costly CAPEX structure of current desalination plants powered by offshore kites and vertical axis wind rotors yet using conventional reverse osmosis technology.
According to the World Health Organisation, over 2 billion people do not have access to clean water, and over two-thirds of the world's population live in water-stressed regions. This technology could be a game changer in altering the dynamics of the global water challenge and provide a low-cost, practical solution to safe drinking water globally. 
SubSea RO Wind is a highly innovative offshore technology that combines the power of altitude wind using kites and vertical axis wind rotors, conventional reverse osmosis membranes, and subsea pressure to desalinate seawater into freshwater at scale.
"The use of subsea pressure to desalinate seawater through reverse osmosis membranes at sea depths of 500m has been extensively discussed since the early 1970s and successfully tested several times in the Mediterranean and Japan. The concept itself is not novel. The main innovation for the SubSea RO Wind technology lies in combining wind power for mechanical lift, a moveable subsea ballast system, subsea pressure, and reverse osmosis membranes," said CEO Lee King.
The largest cost component in conventional reverse osmosis desalination is the energy input required to pressurize seawater through a reverse osmosis membrane at pressures of 5500 kPa and above. Energy is the largest single expense for desalination plants, accounting for over 50% of the total costs of desalinating seawater into potable fresh water.
"Our solution replicates this pressure at sea depths of 500m (5100 kPa). We use the natural hydrostatic head of the ocean at 500m depth to drive a reverse osmosis process. The system is combined with wind power using kites or vertical axis wind rotors to lift the freshwater to the surface. Sail and kite-powered barges are used to deliver the water to shore," says King.
SubSea RO Wind can be delivered because it uses "free energy from a consistent and inexhaustible renewable energy source, offshore wind," says King. The energy input for SubSea RO Wind is an offshore wind that is stronger and more consistent than onshore wind. Eighty percent of the world's wind resource is available offshore in deep waters. 
The technology requires two prerequisites – sea depth and offshore wind – both readily available and in abundance globally. The required energy input to desalinate one cubic meter for the technology is 1.5 kWh. In comparison, conventional reverse osmosis plants consume around 3 kWh per cubic meter.
One of the unique aspects of this technology is that it significantly reduces the barriers to adoption due to costs. Seawater desalination remains among the most expensive water-supply options available. Desalination plants cost hundreds of millions of dollars to build. 
There is no limit to the size of the array offshore or the number of deployed systems, and there is ample space offshore, according to Maryam Hassani, Chief Innovation Officer at Hydro Wind Energy. She explains that a standard commercial-sized unit would produce, on average, 10,000 cubic meters (10 million litres) of water per day at wind speeds of 9 m/s, supplying over 300,000 people with their daily water needs and at a CAPEX below $200 per cubic meter installed.
According to Maryam, deploying the first demonstrator will reduce carbon emissions by 14,000 tonnes per year.
"All the components of this technology already exist. This technology ultimately revolves around systems integration and automation rather than making quantum leaps in technology development; the solutions are all out there," says Hayk Vasilyan, CTO.
The company is currently building and testing a subscale system off the coast of Fujairah in the United Arab Emirates with several offshore engineering firms and strategic partners. A project that will build the foundations for building a 10,000 cubic meter per day scale demonstrator.
The World Economic Forum selected the company as one of the top 100 start-ups shaping the Fourth Industrial Revolution. It is also part of the AWS Clean Energy Accelerator and the Shell Startup Engine innovation program. The company is backed by Techstars, one of the largest VC and accelerators in the world, and recently secured a capital commitment of €50 million from institutional investors, GEM Group. The company has also had a successful raise on Seedrs and Republic. It is currently in the midst of an interim round on StartEngine and a full equity round with VC and institutional investors before a planned IPO in 2023.
"The grand vision is to solve the world's water crisis both at a small and large scale over the next seven years," noted Maryam. Stakeholders and individuals worldwide may well be witnessing the making of a genuine solution to freshwater access globally.

Contact Info:
Name: Mo Hemly
Email: Send Email
Organization: Hydro Wind Energy
Address: United States
Website: https://www.hw.energy

Release ID: 89081972