New York, United States - March 16, 2023 —
Shop2U, a global leader in emerging e-commerce marketplaces, has officially it has received $100 Million in investment from several well-known Venture capital institutions. The new funding will help its platform accelerate business growth and further expand its market share.
Shop2U has revealed its plans to use the new funding to sign up with leading global companies in the areas of home and lifestyle, mother and baby care, and digital products and personal care. Part of the funding will also be used to further develop the company's internal infrastructure and strengthen its position in key markets such as Southeast Asia, Australia, New Zealand and Japan, with the aim of accelerating the e-commerce company's global expansion.
Shop2U platform has become a high-profile e-commerce platform over the past few years and has taken a leading position in emerging e-commerce markets in recent years due to its outstanding performance. It provides consumers with a convenient and fast way to shop and has joined forces with a wide range of brands and merchants to offer consumers a wide selection of products and special offers.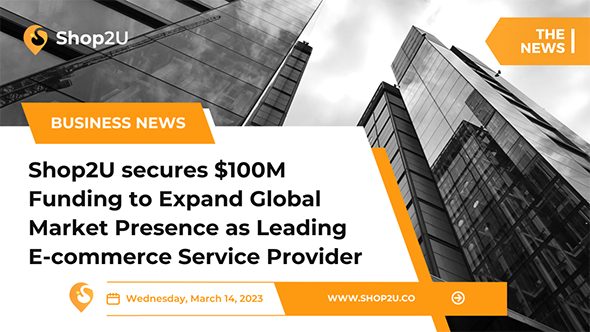 When it comes to working with suppliers and brands, Shop2U shows that they are very focused on partnership building and maintenance. The platform has established strategic partnerships with several international brands to provide consumers with a wider selection of products and better prices. At the same time, the Shop2U platform also focuses on localization, building long-term partnerships with local suppliers to provide consumers with more local goods and services.
The success of the Shop2U platform lies in its advanced technology and excellent customer service. The platform provides an easy-to-use interface and personalized recommendations to help users easily browse and purchase products. The platform also provides 24/7 customer support services to ensure consumers have a pleasant shopping experience.
The Shop2U platform has also excelled in marketing. The platform not only advertises extensively on social media, but also invests heavily in TV commercials and event sponsorships. Regular promotions are held to provide consumers with more offers and discounts to get more people to join its shopping platform.
Shop2U shows that they are working hard to gain more international recognition, build more diverse and personalized consumer scenarios for their customers, help e-commerce sellers grow their business, and steadily advance on the road to high-quality e-commerce development, so let's wait and see!
Contact Info:
Name: Stowers Lee
Email: Send Email
Organization: Shop2U
Website: https://www.shop2u.co/

Release ID: 89089032