United States - May 20, 2022 —
Rwazi, a leading company in the business of data collection, is pleased to announce it has signed a partnership deal with Mind-Easy which would provide mental health resources to their mappers in Africa and Asia. The partnership is coming as the world celebrates mental health awareness month and would see Rwazi provide its mappers access to important culturally adapted mental health resources.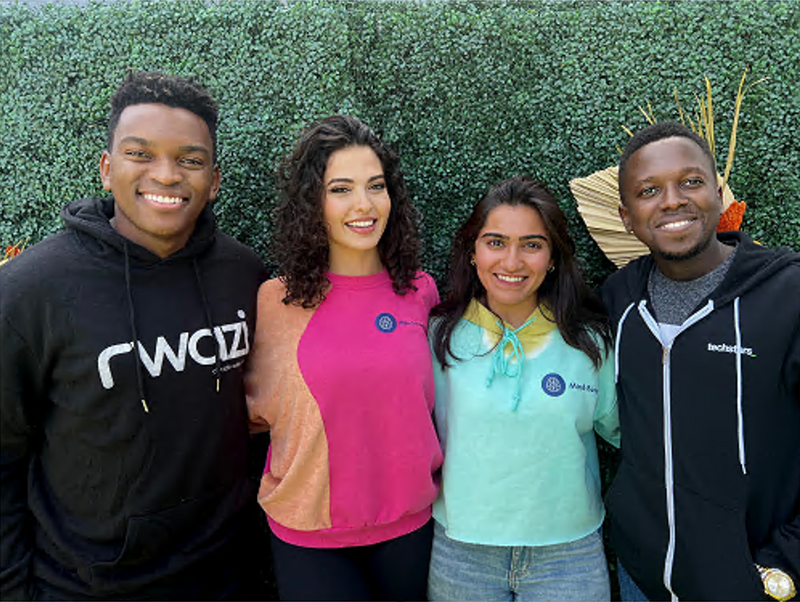 From L-R: Joseph Rutakangwa (Rwazi CEO), Alexandra Assouad (Mind-Easy CEO), Akanksha Shelat (Mind-Easy CTO), Eric Sewankambo (Rwazi COO).

Speaking about the partnership, Joseph Rutakangwa had this to say "most of our mappers are young people on a journey to build their personal and professional lives, but an overwhelming majority lack access to mentors and coaches let alone access to mental health services. Mind-Easy allows for mass access which now our mappers can use to grow personally and professionally."
Mental illness is the most widespread and disabling medical condition in both developed and developing countries. By partnering with Mind-Easy, Rwazi is looking to help its mappers access curated resources to help them improve the quality of their mental health.
Mind-Easy is a mental health startup that provides culturally sensitive and clinically validated mental health resources. The health-tech startup is a leading provider of mental health resources, and this partnership will allow the Rwazi network to access these services easily. This is an important step in Rwazi's commitment to supporting its mappers and ensuring that they have the resources they need to thrive.
About Rwazi
Rwazi is a market intelligence platform that provides multinational consumer goods companies with actionable data from developing markets on who is buying what, for how much, from where, when, and why, to help them drive revenue and expand.
The company uses a network of 20,000+ qualified data collectors (called "mappers") who are consumers spread across 50+ countries in Africa, Asia, and South America, to collect data from their localities - allowing us to collect data from thousands of retail outlets, or consumers, daily.
For more information, please visit https://rwazi.com/ or call the number +1 (800) 597-5871.
Contact Info:
Name: Joseph Rutakangwa
Email: Send Email
Organization: Rwazi
Address: Los Angeles, CA 90232
Phone: +1 (800) 597-5871
Website: https://rwazi.com/

Release ID: 89075405