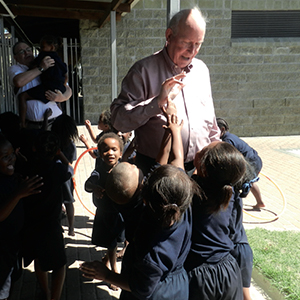 - March 20, 2014 /MarketersMEDIA/ —
Ron Haylock was a 30+ year timeshare industry veteran, known by many not only for his role as Managing Director for RCI Europe, which under his tenure grew from just a few employees to more than 1,200 staff and over £100 million turnover, but also for his passion for flora and fauna, trees and woodland, fine wines and fine dining.
However two passions stood out more than others, which were the work of Christel House International, founded by his founded by his former RCI employer and friend Christel DeHaan and his love for music.
Ron Haylock was Vice Chairman of Christel House Europe and whilst visiting all Christel House schools around the world, he was particularly connected and devoted to Christel House South Africa, and tirelessly gave his time to fundraising efforts that helped that particular school grow from its first opening in 2001 to what it is today — a life changing establishment for over 800 young disadvantaged children.
Ron always encouraged the students at the Cape Town School to explore and make the most of their opportunities to learn music. It is a vibrant part of their local culture and through music these children are finding new and hitherto unimagined ways to develop and express themselves, complementing their academic achievements.
In dedication of Ron's inspiration, industry friends and colleagues have arranged to create The Ron Haylock Music Room at the Christel House School in South Africa.
Funded by contributions from Ron's friends around the world, enough additional instruments and tutoring will be made available for the large number of children at the school, and in the dedicated music room there will be a memorial plaque with the inscription "The Ron Haylock Music Room" followed by an alphabetical list of names of every single donor, whatever their contribution so that the future generations of students, teachers and visitors at Christel House South Africa can be inspired by the legacy of a man who did so much for their school, had so many friends around the world and opened so many doors for young people during his lifetime.
Donations can be made via the JustGiving page at www.justgiving.com/ronhaylockmusicroom
For more details contact Vivienne Noyes-Thomas, Development Director, Christel House Europe
Call +33 562 09 26 72 or +44 (0)7802 848216
or email: vnoyes-thomas@christelhouse.org
Or Liz Taylor, Administration Manager, Christel House Europe
Call +44 (0)7974 671373
or email: etaylor@uk.christelhouse.org
About Christel House International:
Christel House International (CHI) is transforming how kids, their families and future generations permanently escape poverty. Much more than a school, CHI was established in 1998 by Founder Christel DeHaan and currently serves over 4,000 impoverished children around the world. By providing high quality education, nutritious meals, regular health care, character and life skills development, and career counseling, CHI helps students grow into confident, hardworking and ethical young adults who give back to their families and communities. CHI operates six learning centers in India, Mexico, South Africa and the U.S.A., as well as a career development program in Venezuela. For more information, please visit www.christelhouse.org
Media Contact
Company Name:
Perspective North America LLC
Contact Person:
Keisha
Email:
Send Email
Phone:
4077303565
Address:
7380 W Sand Lake Road, Suite 500
City:
Orlando
State:
Florida
Country:
United States
Website:
http://www.perspectivemagazine.com
Source:
www.abnewswire.com
Release ID: 37117