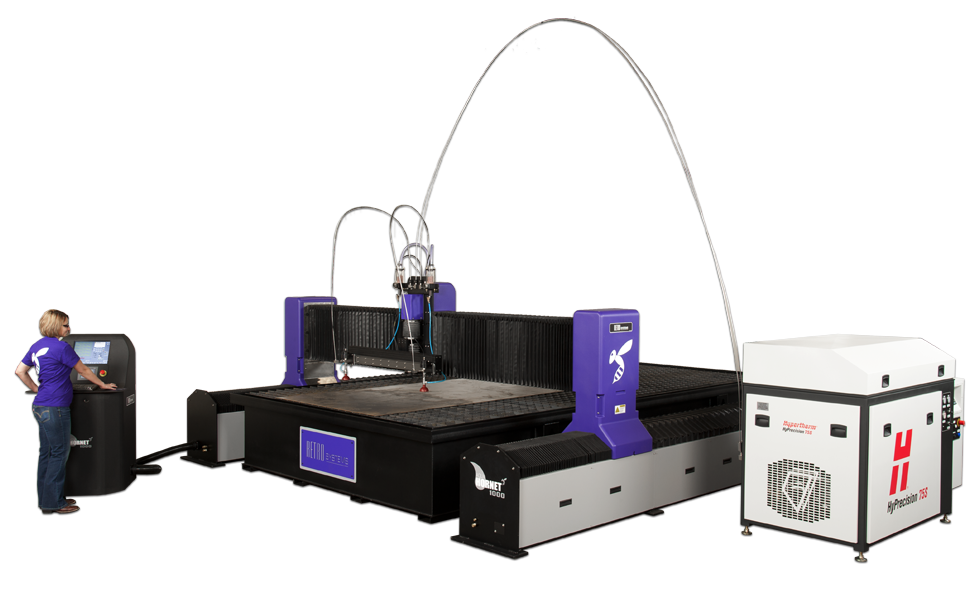 - March 24, 2014 /MarketersMEDIA/ —
Industry Leader in Cutting Edge Technologies is offering the New and Improved AQUA HORNET 1000
Known as a leader in cutting-edge technologies, Retro Systems is keeping their offerings of innovative tools ahead of the pack, by updating the AQUA HORNET 1000. The AQUA HORNET is a waterjet CNC plate cutting machine, capable of cutting materials of up to 10 inches thick.
New improvements include an abrasive removal system, air and water connections, and an easy gantry alignment tool. These improvements allow specialty jets to flush the abrasive, users to easily rinse cut parts of abrasive, and the effortless checking of gantry alignment. All of these features help machinists efficiently perform their job and save time.
Other new features include dual cutting heads with a spreader bar, helical rack and pinion, an ergonomic design for easier access, stainless steel table, and more.
The update comes with improvements to the original design as well. The beam now sits higher above the table, which allows the ability for the AQUA HORNET 1000 to cut through thicker materials. Other improvements include: removable panels for easier access to the powertrack and cables, a heavier-duty frame, increased cut area capacity, and more.
AQUA HORNET 1000 systems include the machine frame, intensifier, cutting head, master carriage tool plate, cutting table with support slats, and a remote CNC control console. Additional options include a wide selection of intensifier pumps, cutting heads, abrasive delivery systems, high pressure gauge and software, abrasive reclamation system, cutting bricks, and much more.
Retro Systems (http://retrosystems.com) offers an array of cutting machines, cutting tables, consumables, and more. An industry-leading manufacturer of CNC plasma, oxy-fuel, and waterjet cutting machines, their various collections of CNC cutting machines are guaranteed to offer the right equipment for any application.
For more information about the updates and features offered by the AQUA HORNET 1000, please call the Retro Systems team at 316-755-3683.
About Retro Systems:
Retro Systems is an industry-leading manufacturer of CNC plasma, oxy-fuel, and waterjet cutting machines. They offer a diverse collection of CNC cutting machines that deliver solutions for a wide variety of businesses. Retro Systems is American owned and sells items that are made in the U.S.A. Serving both small and large businesses, Retro Systems designs and manufactures machines with state-of-the-art technology, providing a superior end product. Their CNC cutting machines can improve productivity, efficiency, and profitability. Contact Retro Systems today by calling +1 316-755-3683.
Media Contact
Company Name:
Retro Systems
Email:
Send Email
Phone:
316-755-3683
Country:
United States
Website:
http://retrosystems.com/
Source:
www.abnewswire.com
Release ID: 37542