Canada - November 16, 2022 —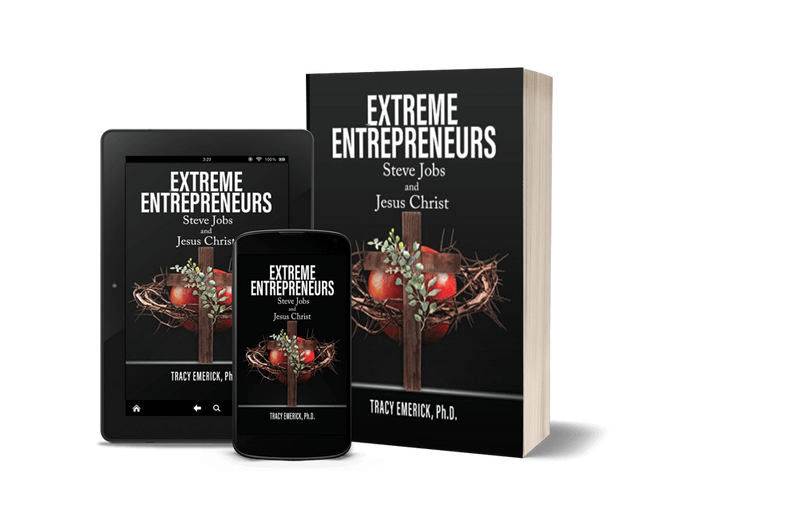 Highly-regarded author Tracy Emerick's "Extreme Entrepreneurs: Steve Jobs and Jesus Christ," an impressive book that seeks to inspire individuals to look inside their own souls and search for what they can do to help make the world a better place, is now available in leading digital stores globally.
In the book, Steve Jobs and Jesus Christ are closely examined for what each of them did as an "extreme entrepreneur," offering a position that has transformed and will continue to transform humankind.
Steve built new technologies which transformed the world forward and brought the whole population with it. At the same time, Jesus Christ was able to inspire love without violence in a highly chaotic and fierce world. 
In his words, Steve Jobs created technology that offered a "bicycle for the mind," bringing complex technology into the hands of non-technical people. On the other hand, Jesus Christ converted living in fear to living in love towards tapping the God within each of everyone.
In a review, Grady Harp lauded the author for inviting readers to discover, rediscover, or expand the divine influence here on earth as expressed by the soul.
"He defines and explains 'entrepreneur' and 'soul' (the inner driver) with a gift for communication that invites 'a-ha' moments, presenting Steve Jobs and Jesus Christ as examples of two extreme entrepreneurs who 'introduced profound changes to humankind as the expression of their souls.' Following his concepts is facile and inspiring and educational, finding memorable thoughts on every page," writes Grady.
Meanwhile, Primer described "Extreme Entrepreneurs: Steve Jobs and Jesus Christ" as a book full of eye-opening facts.
"Never would I have compared Steve Jobs to Christ, yet author, Tracy Emerick has done so with convincing arguments. Most impressive of all that I have learned from this book is that the United States was basically founded on the teachings of Christ. With all the political chaos of today, I was totally unaware of the connection," writes Primer.
Jacob, another reader, had this to say: "Extreme Entrepreneurs: Steve Jobs and Jesus Christ by Tracy Emerick is an interesting title that made me take a double look. This self-help book is about manifestation. The comparison of Steve Jobs and Jesus is not something I would do, but the author decided to go this route."
Those who want to grab a copy of "Extreme Entrepreneurs: Steve Jobs and Jesus Christ" may purchase it on Amazon and Barnes and Noble. 
Bookside Press, a leading Canada-based company, has led the pack in bringing out author Tracy Emerick's engaging book to the public, providing many authors exclusive access to publicity.

Contact Info:
Name: Arabella Boyce
Email: Send Email
Organization: Bookside Press
Address: Dynamic Funds Tower, Yonge and Adelaide St E.
Phone: 7148861775
Website: http://booksidepress.com/

Release ID: 89084736