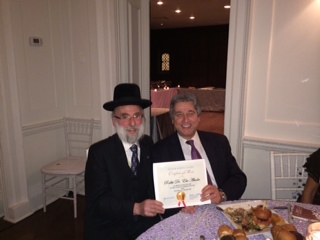 - March 27, 2014 /MarketersMEDIA/ —
On Tuesday, March 27, 2014 Sparks Organization held their annual Gala Dinner in New York City. At this event many distinguished individuals were honored for their contributions to this wonderful program. SPARKS' mission is to provide mothers and families with supportive services to eliminate, struggling and suffering unnecessary pain, with the proper care they deserve, making this dream a reality.
Rabbi Braun, community Representative for NYS Senator Martin J. Golden presented Certificates of Recognition from the New York State Senate to the following honorees: Rabbi Dr. Elie Abadie; Ruth Fouzailoff; Shaindy & Moshe Lax; Surie Kraus; Dr. Shoshana Haberman; Rivky Friedman and Maria Trone Winston. (Photo from Right to Left: Rabbi Dr. Elie Abadie accepting certificate from Rabbi Shlomo Braun)
Rabbi Braun takes pride that he was instrumental in extending his professional guidance to Esther Kenisberg, President of Sparks when forming this outstanding organization. Upon learning the astonishing facts that one in eight new mothers is afflicted with Postpartum Depression (PPD), several women have taken it upon themselves to see to it that no woman should have to suffer the pain, embarrassment and fear of PPD and its related illnesses.
Many women feel ashamed and helpless and often ignore their symptoms. If left untreated, these symptoms can lead to tragic and even fatal consequences. Postpartum Depression can disable not only the woman, but her entire family as well. Families may fall apart, with stable homes being ripped apart in divorce; unfortunately, children often bear the brunt of this outcome. It is undisputed that if untreated, Postpartum Depression can lead to abuse, hospitalization, suicide and infanticide. For more information see http://www.sparkscenter.org/services.php
Rabbi Shlomo Braun is the Founder and Director of the Aleh Foundation USA located at 5317 13th Avenue Brooklyn, NY 11219. The Aleh Foundation opened its first office in the United States in 1989, and developed a network of more than 30,000 friends throughout the USA who became staunch supporters of our activities. With the Aleh Foundation's help, the rehabilitation centers in Israel grew from a hospice program of 23 children to become the nation's largest provider of educational rehabilitative services to severely developmentally disabled children operating in four different cities in Israel. The Aleh Foundation hosts an array of successful fundraising events, as well as parlor meetings in different locations. Aleh Foundation's Annual Awards Dinner http://www.alehfoundationusa.org/30invitepag.html will be held on May 21, 2014 in the Museum of Jewish Heritage. Prominent Leaders and celebrities from the USA and Israel join our elite circle of friends in our state-of-the-art fund-raising projects. To make reservations please visit our website at www.alehfoundationusa.org or cal800-317-ALEH.
Distributed by
Kosher Media
Media Contact
Company Name:
Kosher Media
Contact Person:
Larisa Bykova
Email:
larisa@koshermedia.com
Phone:
2125644309
Address:
43 West 33rd St Suite#405
City:
New York
State:
NY
Country:
United States
Website:
www.koshermedia.com
Source:
www.getnews.info
Release ID: 38111