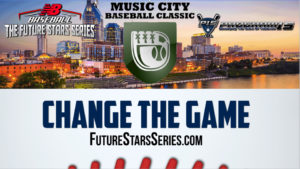 - March 21, 2018 / / —
PROGRAM 15 is proud to announce the Music City Classic has been added as one of the partner events for the New Balance Future Stars Series. PROGRAM 15 and Future Stars Series staff will attend and scout the Music City Classic Event to write MLB scouting reports and select players for the 2018 International Week and invite-only combines in the fall.
Led by PROGRAM 15's National Staff of former Major League and professional players, scouts, and coaches, Future Stars Series Regional Training and Evaluation Combines have garnered a reputation as one of the most comprehensive amateur baseball player identification and development experiences available.
Based in the heart of Nashville, TN, the Music City Classic has grown from a 32-team event for 17U only to almost 300 15-17U teams over a three-week period in June and July. In 2017, teams from 38 states participated including more than 50 of the top 100 teams in the country. The event is invite-only and will be scouted by over 150 college and pro scouts. Games are played at top facilities in middle Tennessee (Vanderbilt, Lipscomb, Belmont, TNU, Cumberland) and there are no admission or parking costs for parents or scouts. Prospect Wire will also attend to host a top-100 combine that helps the best of the best in the event. This event could be called "The Player's Classic" because it's all about the players.
Jeremy Booth, PROGRAM 15 Founder, CEO and President of Baseball Operations for The New Balance Baseball Future Stars Series, says, "Partnering with the Music City Classic is an honor for our staff. Together with Prospect Wire, we will work to bring our objective data-driven feedback and professional scouts' proven subjective methods together to the event. We couldn't be happier to work with such a professional group that has captured a ton of great talent into one spot."
Matt Bomeisl with Prospect Wire added, "We are thrilled to bring PROGRAM 15's staff into the mix to supplement the Music City Classic and enhance the event. The Music City Classic and Prospect Wire have enjoyed an outstanding partnership over the years and we all agree that this is just another effort being made to elevate this event and continue its excellence as one of the premier events in the nation."
Music City Classic Director of Operations, Kirk Downs, said, "We are thrilled to become a partner with PROGRAM 15. We feel we have one of the best events in the country with some of the best players in the country. There is no doubt the PROGRAM 15 model and vision fits what we believe in. Jeremy and his staff are the best in baseball at evaluations and development. There is no doubt that every player in our event will benefit from PROGRAM 15 and the vision of better baseball players."
Amateur players identified by PROGRAM 15's National Staff of former Major League and professional players, scouts and coaches are submitted to New Balance Baseball for advanced opportunities and potential selection to regional and national team rosters for New Balance sponsored events.
To learn more about The Music City Classic Baseball Tournament visit http://collegebaseballcamps.com/mcc/
For the latest Future Stars Series updates and announcements follow @ftrstarsseries on Twitter or visit http://futurestarsseries.com.
ABOUT PROGRAM 15:
PROGRAM 15 boasts a faculty and staff that includes multiple Major League All-Stars and World Series veterans responsible for executing the New Balance Baseball Future Stars Series, an initiative between the two organizations to elevate the game of baseball by providing amateur players across all economic levels an opportunity to reach their full potential through the training, development, and guidance of former MLB players, scouts, and coaches. For more information on Program15 and the Future Stars Series, visit www.futurestarsseries.com or @program15bb and @ftrstarsseries on twitter.
ABOUT THE MUSIC CITY CLASSIC:
The Music City Classic Baseball tournament is one of the top "invite only" tournaments in the country. The 17U and the 16U bring 100's of college coaches and professional scouts to Nashville each summer. The tournament is played at all of the top college fields in the Music City along with a few of the best high school facilities. Host sites include: Lipscomb, Vanderbilt, MTSU, Cumberland, Vol St. Columbia St, Belmont, Trevecca, and Austin Peay. The competition between the nation's elite is no doubt happening at the Music City Classic.
ABOUT NEW BALANCE:
New Balance, headquartered in Boston, MA has the following mission: Demonstrating responsible leadership, we build global brands that athletes are proud to wear, associates are proud to create and communities are proud to host. New Balance is the only major company to make or assemble more than 4 million pairs of athletic footwear per year in the USA, which represents a limited portion of our US sales. Where the domestic value is at least 70%, we label our shoes Made in the USA. New Balance owns five factories in New England and one in Flimby, U.K. New Balance employs more than 5,000 associates around the globe, and in 2015 reported worldwide sales of $3.72 billion. To learn more about New Balance, please visit www.newbalance.com and for the latest press information please visit http://newbalance.newsmarket.com. Keep up-to-date with all of the latest New Balance news on Twitter @NewBalance and newbalance on Facebook.
Company Name: PROGRAM 15
Contact Name: Rachel Allen
Country: United States
Phone: 7132421662
Email: press@authoritymediamarketing.com
Website URL: http://program15.com/
Release ID: 317361