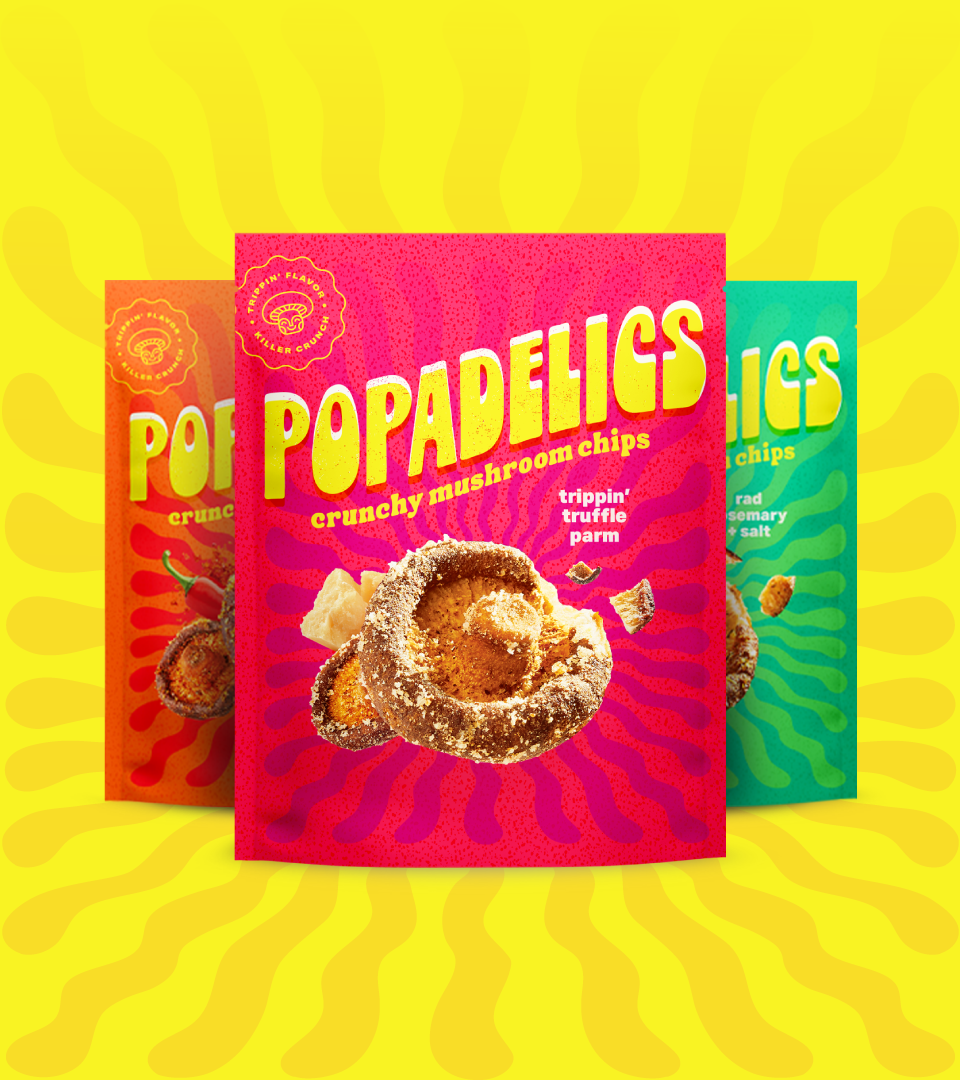 New York City United States - March 3, 2022 /MarketersMEDIA/ —
Popadelics Crunchy Mushroom Chips
, the all-new craveable and crunchy snack reimagining shiitake mushrooms and snack time, is live and available for pre-order via the crowdfunding platform
Indiegogo
.
Mushrooms are probably the last thing that comes to mind when it comes to snacks. Popcorn, potato chips, and healthier snacking alternatives made with vegetables such as kale are commonly found on shelves, but snackers would be hard-pressed to find any snacks made with one of the world's greatest superfoods— shiitake mushrooms. Popadelics is on a mission to change that with a delicious new creation that takes everything people know about mushrooms and throwing it out the window. Popadelics are shiitake mushrooms reimagined for the modern superfood snacker that bursts with flavor and packs an addictive crunch.
"As an adventurous yet picky eater who also happens to love mushrooms, it hit me one day that mushrooms are notably absent from grocery store snack aisles. If there are kale snacks, carrot snacks, and cauliflower snacks, why shouldn't there be mushroom snacks, too? Plus - mushrooms are reaching an inflection point in the public consciousness," says Co-Founder and CEO Marilyn Yang on the inspiration behind the project. "The more we [my co-founder Michael Casali and I] researched the market, the more excited we became about the potential business opportunity - and thus, Fun-Gal Snacks and Popadelics were born."
To produce its signature crunch, Popadelics Crunchy Mushroom Chips leverage a unique cooking method called vacuum frying, which allows foods to cook at much lower temperatures while absorbing less oil and retaining more of their color, nutrients, texture, and flavor. Popadelics are also vegan and a good source of protein and fiber. At launch, Popadelics is introducing three addictive, mouth-watering flavors — Trippin' Truffle Parm, Twisted Thai Chili, and Rad Rosemary + Salt.
While Popadelics do not contain any psilocybin or any other psychedelics or narcotics, purchases will support the Fun-Gal Snacks Foundation, a charitable organization from the creators of Popadelics that will support various causes centered on health and wellness. Most notably, the Fun-Gal Snacks Foundation will support the Johns Hopkins Center of Psychedelic & Consciousness Research and their exploration for innovative treatments for improved mental health.
"When we created Popadelics, we wanted to come up with a better-for-you snack that actually tastes good. We bet you haven't had shiitake mushrooms this crunchy or this tasty before!" adds Yang. "We also dare any mushroom doubter to try Popadelics - they may be surprised. Our goal is to bring Popadelics Crunchy Mushroom Chips to the masses!"
Popadelics will be shipping nationwide and is currently live and available for pre-order via
Indiegogo
at exclusive, limited-time prices.
About Fun-Gal Snacks LLC
Fun-Gal Snacks LCC is based in New York City and was founded on a mission to create innovative snacks that harness the benefits of mushrooms and other underloved veggies - all while supporting social causes. Popadelics, Fun-Gal Snacks™' flagship product, are shiitake mushrooms reimagined for the modern superfood snacker and is a mushroom-centric brand for the health-conscious individual who loves delicious, better-for-you snack food options.
For more information on Fun-Gal Snacks and Popadelics please visit
popadelics.com
.
Contact Info:
Name: Chris Woods
Email: Send Email
Organization: Fun-Gal Snacks LLC
Website: https://popadelics.com/

Release ID: 89066354