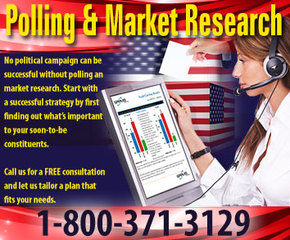 - March 24, 2014 /MarketersMEDIA/ —
Phone Survey Shows Governor Scott Walker +5 over Mary Burke
Winter Springs, Florida / March 24, 2014 / Human Events and Gravis Marketing conducted a random phone survey by automated calls to land lines of 988 registered Wisconsin voters regarding current events and the upcoming election. The telephone survey was conducted 3-17-2014. The opinion poll carries a margin of error of ± 4%..The Gravis telephone surveys are conducted using automated calls contacting registered voter lists provided by the State of Wisconsin.
Opinion Poll Shows President Obama's Approval Rating
A political telephone poll taken in Wisconsin indicates that the President's disapproval among Independents was almost 50%. Members, of his own party largely supported him while Republicans mostly disapproved.
- On party lines, the President's disapproval rating was nearly 97% among Republicans, 47.1% among Independents and 10.2% among Democrats.
Telephone survey: Walker ahead with independents
In the Governor's race, the results indicate a fairly close race wit sitting governor Walker holding a 5 point advantage over Democratic challengers Mary Burke wit only 7% expressing uncertainty.
Highlights of the poll include:
- Across all party identifications, President Obama's approval rating was 40% with 11% expressing uncertainly.
- As expected Republican voters, mostly opposed amnesty at 84.7%. • Voters were polled "If the election for Governor were held today, would you vote for Republican Scott Walker, or Democrat Mary Burke?" Among all voters, 49% indicated a preference for Mike Walker (R) while only 44% said they would vote for Mary Burke (D).
"Scott Walker shows strength across many of the telephone polls cross-tabs especially with independents, the phone survey is good news for Governor Walker who is considered a contender to be the nominee of the republican party in 2016," said Doug Kaplan, the president of Gravis Marketing, the Florida based political advertising agency
Telephone Opinion Poll On Public Policy Issues
- When asked, "Should the federal government approve firearm transactions before they are completed?" 42% of registered voters indicated there should not be regulation while 36% expressed that these transactions should be approved by the Federal government. 22% of those polled said they were unsure.
- When asked, "Should mothers serving in the military be ordered into combat zones? 39% indicated NO with 33% indicating Yes, and 37% stating they were unsure.
- When asked, "Would you support amnesty for illegal aliens? 60% of voters expressed opposition to amnesty for illegal aliens while 21% indicated they support an amnesty while only 19% expressed uncertainty.
- On party identification, the responses to the question became muddied with over just over 70% of Democrats opposing amnesty or expressing uncertainty and 85% of independents indicating opposition or uncertainty.
Gravis Marketing is an award- winning public relations firm specializing in political advertising with a clientele including political campaigns, public affairs organizations, consultants, and nonprofit organizations all across the globe. Founded in 2010 by Doug Kaplan, Gravis Marketing is an industry leader in innovative turnkey campaign solutions specializing in innovative call center technologies.
Gravis and Humans events conducts telephone surveys and opinion polls on political races and currents events.
About Gravis Marketing:
Gravis Marketing is a political advertising agency, specializing in political robocalls, registered voter lists, telephone polls and surveys, automated calls, and predictive dialer software.
Media Contact:

Doug Kaplan
Gravis Marketing
407-242-1870
doug@gravismarketing.com
Release ID: 37535