Ukraine - May 24, 2023 —
The main and incontestable advantage of stablecoins has always been considered their stable exchange rate. This has been guaranteed by pegging to fiat currencies and backing with real assets. But this fact has already been refuted several times by the real behavior of the market.
Everyone remembers the scandals with the collapse of Terra (LUNA), when the value of the currency fell by 95% in a matter of days. Or the moment of the USDC drawdown in March 2023, when many investors then lost a lot of money (remember the news about how a crypto investor in a panic ran to change his 2 million USDC and exchanged it for 5 cents USDT). And such cases were not isolated. Real people lost real money!
After the stability of the exchange rate of one single stablecoin was brought into question, the "best minds" of the crypto market began to look for a solution to this problem. And they found it!
A new interesting project in the field of stable cryptocurrencies has appeared on the Internet - the OverGold coin (OVG). The project website is located at https://overgold.io which provides information about this coin and how to obtain a free wallet. 
Let's take a closer look at OverGold!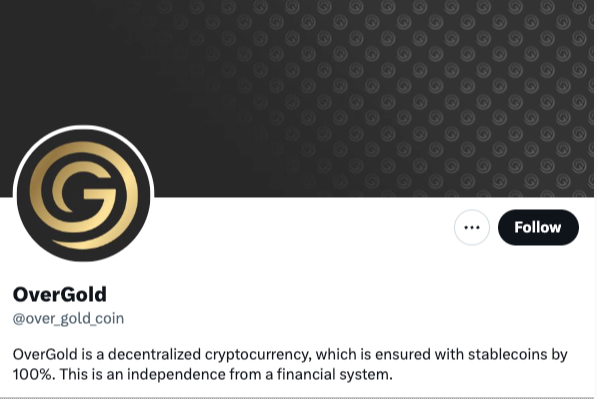 The main feature of this cryptocurrency is the distribution of risks. It is 100% backed by 6 other popular stablecoins. That is, by investing in OverGold, user immediately invest it in six stable cryptocurrencies pegged to real assets, such as USDT, USDC, TUSD, DAI, USDD, FRAX - the list changes depending on the market situation.
Consider the main features of OverGold:
Stability. This is the main feature of all stablecoins. But in OVG it is multiplied by six. Even if one of the stablecoins in the project portfolio "goes to the bottom" and turns into a "scam", this will only slightly affect the OVG rate, since the remaining five cryptocurrencies will provide liquidity and rate stability. The built-in balancer automatically scales the proportion of each cryptocurrency depending on its market capitalization.
Versatility. OverGold (OVG) coins can be freely exchanged for various cryptocurrencies. They can pay for goods and services both online and in offline stores through payment terminals. For the convenience of users, a simple and user-friendly mobile application has been developed.
Yield. A deflationary model has been introduced to continually increase the OVG rate. With any transaction on the network, 0.25% of its amount is burned, thus each OVG coin rises in price by the same amount. In addition, a referral system and a staking program have been developed to increase the income of OVG owners.
Functionality. The OverGold project may boast a convenient wallet with wide functionality. From instant transfers on the network (up to 10,000 transactions per second) to detailed statistics on the blockchain and monitoring the network as a whole. There is also a whole set of additional tools, such as OVGExchanger for a decentralized exchange, Starbridge for transferring coins to other networks, etc. There are cashback, promotional codes, smart contracts and deferred payments.
Security. Through the use of up-to-date private blockchain technologies, OverGold guarantees the highest level of security for user data and the entire system as a whole.

This project will be of interest to both beginners in the world of cryptocurrencies and professionals: ordinary users interested in a stable coin and investors who want to make a long-term investment in an asset with an ever-growing price. It will also be useful to businessmen who wish to expand the range of payment means for doing business.
It should be noted that OverGold is a young but rather promising project. Its capitalization is constantly growing, and the number of new users is increasing day by day. Also, new features are constantly appearing in the project, for example, voting on important issues for coin owners. To learn more about the project news, join on its telegram channel at: https://t.me/OverGoldCoin.

Contact Info:
Name: Grgoriy
Email: Send Email
Organization: OverGold
Address: Ukraine
Website: https://overgold.io

Release ID: 89098120