LOS ANGELES, CA - February 8, 2023 —
Ofuzzi has taken the market by storm with its announcement of launching a new Cyber 1200 Pro pool cleaning device by April 2023. Their Cyber 1200 Pro pool vacuum has such a long run time that it can be used to properly clean even the largest swimming pools without needing to be plugged in for recharging. The equipment is suitable for above-ground or half-above-ground pools up to a depth of 6.56' feet and can clean an area of up to 1076 ft². It may be used to clean pools of varying sizes and shapes with a level bottom. The cyber 1200 pro pool vacuum is ideal for year-round use on any size or shape of pool.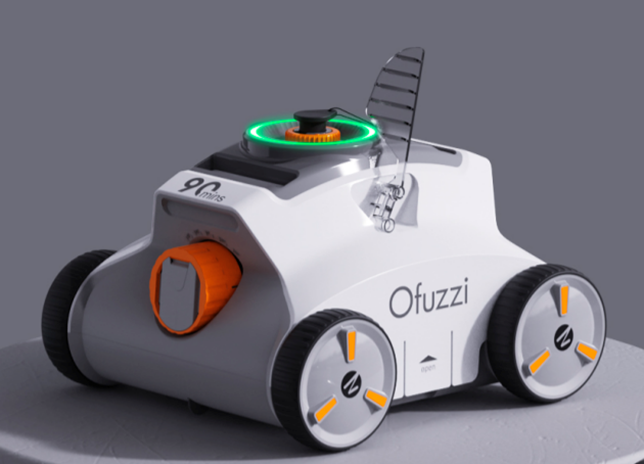 The 2 robust motors collaborate to efficiently clean your pool of dirt, trash, and other intruders. The cleaning procedure is greatly facilitated by the huge water inlets, which are fashioned to trap and remove the largest quantity of waste.
Overall, the Cyber 1200 Pro is a very effective robotic pool cleaner that will save a ton of time and work. This pool cleaner has covered its users from top to bottom with its 2 strong motors, huge water inlets, bottom brush, and filter tray. The Cyber 1200 Pro is an excellent option for a pool cleaner that won't break the bank.
The pool vacuum cleaner's cordless design eliminates the hassle of tangled cords and limited mobility caused by their length. The pool can be cleaned more quickly and safely without worrying about the wires getting in the way or becoming tangled up with other pool equipment. The pull vacuum cleaner's engine and internal components are protected by IPX8 waterproof construction. Because of this thoughtful construction, the vacuum cleaner will be safe from water damage for so many seasons to come. The fact that the vacuum may be operated in and near water without fear of harm is another benefit of this design.
Holding the machine's handle when pulling it out of the water is essential for keeping water out of the workings. Lifting the vacuum out of the water should be done slowly and carefully to protect the vacuum and its internal components from water damage. After removing the robot vacuum from the water, it should be set on a dry, flat surface to dry before being used again. That way the vacuum cleaner won't be damaged if it accidentally gets wet, and you don't have to worry about the vacuum not working.
About Ofuzzi
Ofuzzi's only focus is on developing groundbreaking vacuum technology that will completely alter the way in which homes are cleaned. By prioritizing accessibility and cutting-edge functionality, they want to revolutionize the cleaning industry and make life a little bit better for everyone. They offer vacuums that will meet your demand; try one of their premium vacuums and see how advanced technology can enhance cleaning performance.

Contact Info:
Name: Josh
Email: Send Email
Organization: Ofuzzi
Website: https://ofuzzi.com/

Release ID: 89089693