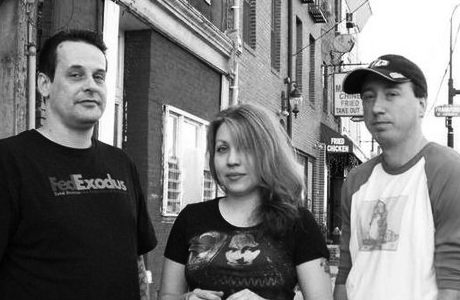 - March 31, 2014 /MarketersMEDIA/ —
Lisa Flynn and Workhorse III
Many have the assumption that rock bands are pampered and/or disconnected from the working world. But this is hardly the case with hard punk rockers Workhorse III. Comprised of the wife-husband duo of singer/guitarist Lisa Flynn and drummer Eric Perfect plus bassist Brian Blunker, it turns out that Flynn is surgical nurse.
"I recover fresh post op patients and take care of patients that have all type of surgery," she explains. "Abdominal, vascular, bariatric, hips, knees, shoulders…all orthopedic, urological, abdominal cancer resections, gallbladders, bowel obstructions, abscesses, gynecological, plastics, and some medical patients, as well. Vital signs, medication, cares, wound care, cleaning up, etc."
Also working with bloody hands is Perfect who has been a staple of the Philly tattoo scene for over two decades, and is owner of the world-renowned Kadillac Tattoo Deuce. He is one of the few true traditional tattoo artists in the area and makes frequent guest appearances at tattoo conventions around the world.
Despite juggling busy professional careers, Workhorse III has recently released their follow-up to their 2010 self-titled debut, entitled "Fortune Favors the Bold," which is currently or sale as a download (as a full album or individual tracks) via the group's site: www.workhorsethree.com/products-page/fortune/
Their latest track "Kiss Me Goodbye" is currently streaming at http://www.stereokiller.com/newsreviews/news.cfm?intarticleid=12241
Workhorse III has received rave reviews in the past, including Maximumrocknroll saying "I can't believe this band is a three-piece because the jams are solid with crisp drumming, deep bass lines, and noodling guitar riffs all over the place."
Additionally, the Philly Music Review recommended the trio "For those with an open ear, an appreciation of fast paced heavy music, this is about as much good as it gets," while the Brooklyn Rocks website succinctly described the band's sound as "Balls-out rock and roll."
Hailing from Philadelphia, Workhorse III has played shows with such punk rock legends as Cheetah Chrome (Dead Boys) and Sylvain Sylvain (New York Dolls), and has drawn comparisons to such renowned heavy hitters as Black Flag, L7, and Mudhoney. In other words, the type of real, raw, and honest sounds that are sorely missed in the modern day's Autotune/'American Idol' obsessed world.. Thankfully, the wait is over - fans craving some real rock n 'roll will be treated to a set of new tunes from Workhorse III.


Distributed by
CWPR LLC
Media Contact
Company Name:
CWPR LLC
Contact Person:
Clint Weiler
Email:
clintweiler@gmail.com
Phone:
6107814303
City:
Phoenixville
State:
PA
Country:
United States
Website:
http://www.clintweiler.com
Source:
www.getnews.info
Release ID: 38660