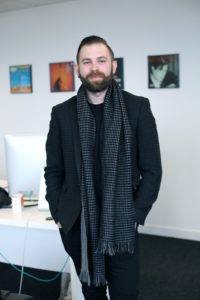 - September 30, 2017 /AuthorityNewsNetwork/ —
Multi-channel digital marketing company, launching this week, is poised to deliver a boost to sales for SME's worldwide. Aesthetic Technology, headed up by talented digital entrepreneur, Ryan Margolin, will deliver proven strategies for digital excellence, driving increased leads and sales.
New multi-channel digital marketing business, Aesthetic Technology, is launching in Ireland this week. With a focus on small and medium enterprises (SME's), the agency is committed to offering proven digital marketing services to businesses globally, with a clear vision of streamlining lead generation for companies in a variety of industries.
With the SME sector making up 99.8 percent of the total enterprise population of Ireland, Aesthetic Technology will have a huge market base to work with. Despite over 20,000 new businesses launching in 2016 alone, the Bank of Ireland estimate that 66 percent will fail within their first five years. Globally, the failure rate is between 42 and 63 per cent, depending on their industry.
Irish businesses, both large and small, collectively spend more than €300m a year on digital advertising, with year on year increases in the region of 13 per cent. Across the globe, that figure almost reached $500bn in 2016, and is predicted to rise over the coming years. Figuring out how to spend that money wisely, and to get the maximum return on investment, is crucial to SME's staying competitive in today's agile marketplace.
With a solid background in digital marketing, CEO of Aesthetic Technology, Ryan Margolin, is a top talent to have on any team. Self-taught for over a decade, Ryan has turned around business after business, and has solidified his expertise with a Masters' degree in Digital Marketing.
Beginning his career in the US, Ryan helped to turn a stagnant business in the manufacturing, wholesale and distribution B2B space into a healthy multi-national organisation, thanks to his flair for spotting opportunities and leveraging all the platforms within the digital marketing sphere. He has since launched his own technology repair company, and is excited to begin offering his expertise to other businesses globally.
Margolin commented,
"I'm really happy to have arrived at this point. Up until now, all my expertise and skills have been for my personal benefit only. But now I get the chance to do something really special; to help small businesses all over the world to really reach their full potential."
"My agency is firmly focused on the SME market, and to helping small business owners boost their revenue through the services I can provide. Together, we'll be able to implement proven formulas and strategies that will directly contribute to generating new leads and sales for their company."
Among the services provided by Aesthetic Technology are Sales & Marketing Funnels, SEO, Pay Per Click (PPC) advertising, social media advertising and website development. The agency's focus is on creating a seamless, multi-channel marketing campaign that gives their client's businesses a consistent 'voice' at every customer touch point.
Multi-channel marketing has proven to be a powerful strategy for businesses large and small, driving increased sales, lowering marketing spend and a providing a higher return on investment (ROI). For small businesses surviving in the increasingly competitive modern environment, such services will surely be worth their weight in gold, proving that smaller businesses don't always need deeper pockets than big corporations in order to compete.
Company Name: Aesthetic Technology
Contact Name: Ryan Margolin
City: MINDEN
State: NEVADA
Country: UNITED STATES
Phone: +1.702.430.1717
Email: digital@ryanmargolin.com
Website URL: http://www.aesthetic-technology.com
Source URL: http://authoritynewsnetwork.com/new-digital-marketing-agency-brings-sme-success/
Release ID: 244642