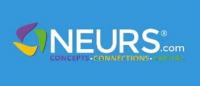 - March 17, 2014 /MarketersMEDIA/ —
New York, NY / March 17, 2014 / NEURS invites every aspiring entrepreneur to be part of the industry's next big thing with access to a global community of business opportunity, funding and service providers.
NEURS, a company "built for entrepreneurs by entrepreneurs," is set revolutionize the way online marketers perceive building an empire using the power of the Internet. Come April 2014, NEURS is anticipated to be the biggest online networking website for business-minded individuals to offer an innovative service that will provide a world of opportunities for them all.
"It's a game changer. We are very excited to invite entrepreneurs and individuals interested in starting their own business to learn more about NUERS," said Galab Thapalia of NEURS. "NEURS does not require any fee from those who register," he added.
Within 2 years of website and service development NEURS now offers what every entrepreneur, affiliate marketer, and business opportunity provider all over the world need: a solid connection with each other using the NEURS Business Suggestion Engine, become part of a huge network, and monetize this massive marketing reach.
Even at its pre-launch stage, NEURS is offering interested individuals a pre-release opportunity to earn thousands - and up to a 6-figure income - by simply participating in the site and promoting it by sending invitations to people pre-launch. Affiliates will be getting upfront and monthly residual commissions when they refer customers to the paid Entrepreneur account or Provider account. NEURS Affiliates may also refer other affiliates to generate a monthly residual income stream from the customers they refer.
"NEURS is different from LinkedIn. Here, members can earn affiliate commissions by having referrals join the growing NEURS community," said Thapalia.
Registrants at NEURS will be redirected to a short video about the company and get to know more about its vision; the products and services it offers; a rewards program that is the only one of its kind; and a truly brilliant compensation package. Upon registering, members get a "locked position" on site and will have access to regular updates and inside information on the website during pre-launch and as the website progresses through its actual launch.
With over 4 million page views and over a million invitations sent and accepted in over 193 countries, NEURS is poised to become the biggest social networking company and affiliate program. Through NEURS, anyone who wishes to gain valuable connections with fellow entrepreneurs or business providers or earn residual income while at it will get the best of both worlds.
To learn more about NEURS and the revolutionary affiliate marketing system, please visit http://rapidaffiliateincome.neurs.net/ for additional information.
Galab Thapalia is a NEURS Independent Affiliate.
About NEURS
NEURS is an innovative affiliate program offering online entrepreneurs the opportunity to earn substantial income of up to 6-figure. Leveraging the power of social media networking and affiliate marketing, the company has brought together entrepreneurs, online marketers, business opportunity seeker and funding investors in one platform from all over the globe.
Contact Information and Media Inquiries:
NEURS
Galab Thapalia
San Antonio, Texas
Phone : (210) 744-8962
Release ID: 36361