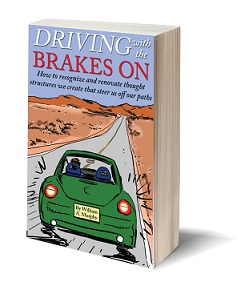 - March 24, 2014 /MarketersMEDIA/ —
Sedona, AZ - If you've ever looked in the mirror and said, "OMG, I've become my parent!" you'll relate to bestselling author William A. Murphy's new book which seeks to help readers take back control of their own life journey. Driving With the Brakes On is not intended as a 'self-help' book, but as a catalyst for exploration and expansion of consciousness. This latest entry into the genre of books on spirituality points toward a new path of self-discovery.
Illustrating the point that to facilitate change we must become the observer of our own lives, Murphy shares the stories of his own personal journey. He states that "early conflicts between our spiritual essence and the physical part of us being formed in this new life" have shaped our response to life's experiences. He further explains how these same unquestioned responses, along with those added by society, become structures and beliefs that color and shape our daily reality.
In Section One, "Orientation to the Spirit," Murphy offers reader-friendly explanations of our spiritual essence, how energy works in our universe and how to use our spiritual abilities, while Section Two focuses on how we may be limiting ourselves by "driving with the brakes on" because of thought structures and beliefs we have formed which hold us back.
"We are timeless beings, and we have abilities that are pretty incredible. Our thoughts tend to be steered and limited by our society through ways we don't even realize. It's important that we become aware of this and how to steer ourselves around those limitations to our abilities and consciousness," states Murphy.
Murphy explores Quantum physics in Section Three and explains how powerfully influential thoughts can be as he touches on how the universe works. In Section Four he offers specific ideas and exercises for shifting viewpoints to remove the boundaries, "the brakes" and create a new reality.
Here's how best-selling author Jean Adrienne sums it up: "Sometimes we can be our own worst enemy without even realizing it. I loved Murphy's book, because he pointed that out for me and helped me to become aware of how I was stopping myself from moving forward. It's filled with great information and insight!"
With an eye on how we relate and interact with our world, Murphy stops to ponder, "There are things that have been discovered about us, life force, our world, and how it all works. It is not what we have been led to believe, and now is the time to learn how to use this information, because it is life changing. Seek what calls to you in your own journey. It will be the right place to start. This book provides a catalyst for your journey of discovery."
"Driving With the Brakes On" is available now in paperback or as an eBook on Amazon and will officially launch on March 25, 2014. Visit http://brakeson.homestead.com for more information.


Media Contact
Company Name:
Bestseller Services
Contact Person:
Denise A. Cassino
Email:
Send Email
Phone:
3038383399
Address:
PO Box 1223
City:
Conifer
State:
CO
Country:
United States
Website:
http://BrakesOn.homestead.com
Source:
www.abnewswire.com
Release ID: 37559