- March 11, 2022 —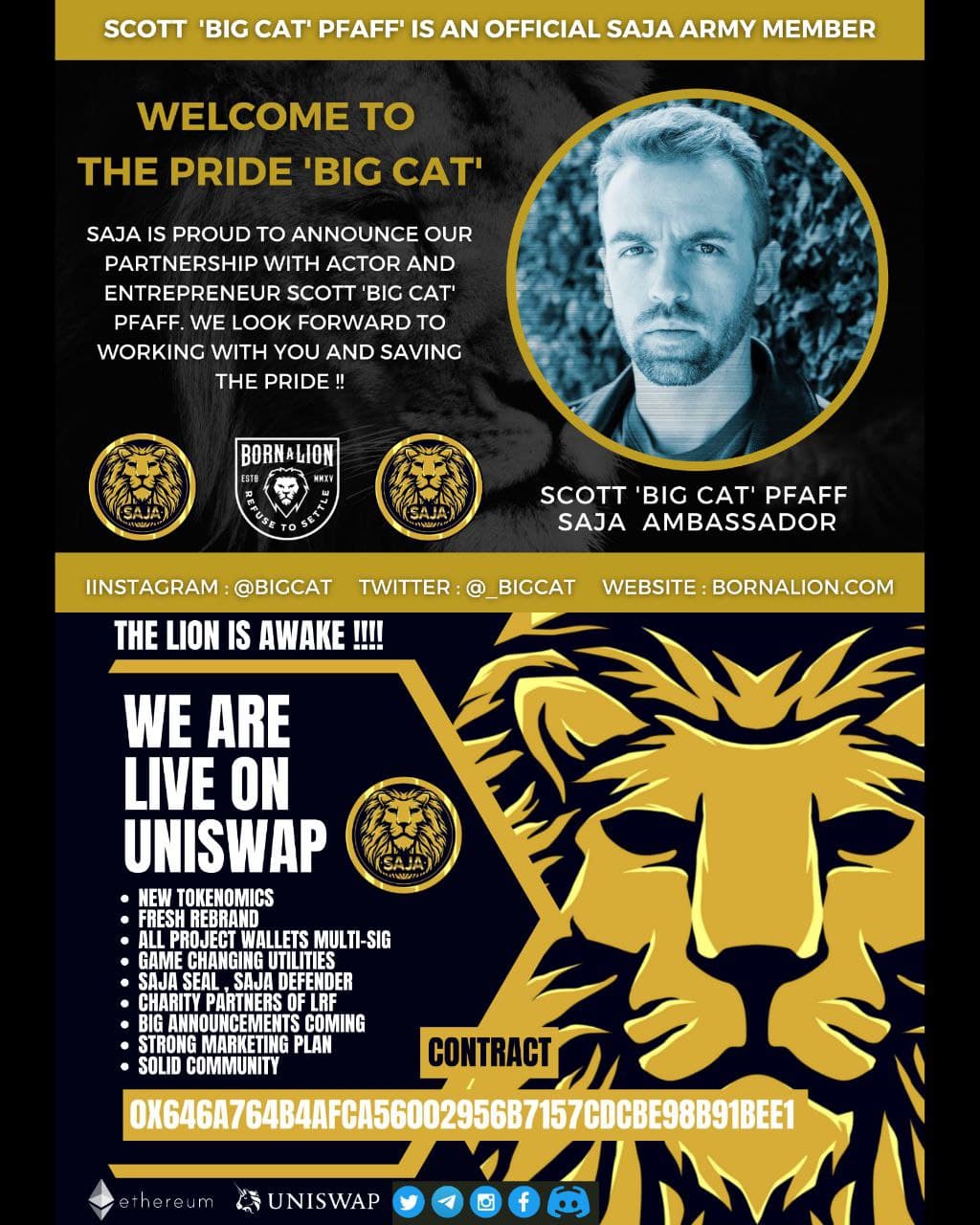 The team at SAJA recently reiterated their commitment to bringing more people into the cause of helping to protect lions globally as the crypto project recently partnered with Scott "Big Cat" Pfaff. The move follows the recent relaunch of the alt coin in the DeFi space, as the project continues to expand, amidst increasing popularity worldwide.
"Super excited to be joining the Saja team! The mission to save wild Lions is something personal to me and as someone new to the crypto space, the mission of informing and protecting people invested in crypto is something that really drew me to wanting to work with and be a part of Saja. Excited for the future of the project and to be able to contribute," said Pfaff.
Lions have been classified as endangered and vulnerable animals, with a recent report revealing that the population of African lions is less than half of what it was just thirty years ago, due to the illegal trade of lion prey for their meat, poaching for body parts, habitat loss and fragmentation as well as human-cat conflict as a result of the real or perceived threat lions pose to livestock. Over the years, several initiatives have emerged to save lions in different parts of the world. However, SAJA is looking to bring the crypto world into the cause with the launch of the charity token.
The partnership between SAJA and Big Cat will further help promote the project, leveraging the popularity of the TV star to create more awareness about the token. Scott "Big Cat" Pfaff is a reality TV celebrity who featured on the popular MTV series, Fantasy Factory. He has a large following across social media, which will help grow the popularity of the SAJA project and he has expressed his readiness to promote the initiative.
The SAJA project also has a utility side to it, with functionalities such as Saja Defender, Saja Seal, Saja Insights, all designed with the goal of educating and protecting the crypto community from scammers and potential rug pull projects. The innovative utility will identify scams, and warn investors before they are victimized, especially as thousands of crypto projects continue to emerge from different parts of the world.
For further information about SAJA and how to support the cause by buying the charity token, visit - https://www.sajatoken.com/. SAJA also has a growing online community across social media, including Twitter, Telegram, Facebook, and Instagram: @official_saja_army.
About SAJA
SAJA was created as a charity token project and a means of educating and protecting the crypto community from potential rug pull projects. The goal is to protect lions on the global scale by partnering with various organizations supporting the lion conservation effort, including the likes of the WCN, the parent organization for the Lion Recovery Fund as well as other organizations initiating actions to conserve and safeguard lion habitats through the process of rescue and recovery.
Contact Info:
Name: SAJA Enterprises LLC
Email: Send Email
Organization: SAJA Enterprises LLC
Website: www.sajatoken.com

Release ID: 89066356