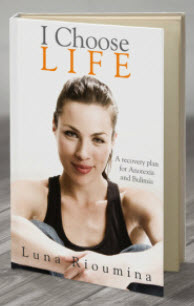 - March 18, 2014 /MarketersMEDIA/ —
Actress, singer, and model, Luna documents her experience in dealing with and beating the devastation of Anorexia and Bulimia. She presents a recovery plan for anyone suffering with these disorders.
AUCKLAND, NEW ZEALAND, March 18, 2014, Eating disorders manifest themselves in people having an intense fear of gaining weight. They affect every facet of the person's life, and they severely limit the amount of nourishment consumed, often becoming dangerously thin.Luna Rioumina lived through 12-years of eating disorders, and was able to triumph over these conditions. Her new book "I Choose Life", is all about her experience and her development of a plan that saved her life. This true story is not only compelling, but gives hope to all those so afflicted.
"I Choose Life" is well written, and easy to read. The reader is taken on a journey of how easy it is to fall victim to one of these eating disorders, and how it affects the mental well being of the sufferer. Luna appeared as a "perfect child", beautiful and disciplined, but underlying it all was the fact that Luna was a prisoner of an eating disorder. Binging and purging consumed most of her days, while at the same time robbing her of her youth and a social life.
Luna exhibited extraordinary strength in pulling back from the brink of suicide, she couldn't stand it anymore. At this point, she would try anything, and she committed herself to a psychiatric hospital, went to hypnotherapists, did acupuncture, sought out Reiki Masters and Healers. In the end, none of these so-called "cures" worked, and she was forced to develop her own recovery plan that she describes as her seven steps to beat an eating disorder.
"I Choose Life" is more than a memoir, it is also based on the latest scientific research into eating disorders. After three years of being free of bulimia, Luna is spending time counseling others who are still suffering through the devastation of these diseases, and passing on what she has learned. Actress, singer and model Luna Rioumina was born in Moscow to a Russian father and Jewish mother. She got her first taste for travel at 16 after winning a scholarship to study at a college in France. At the same time, she was studying at the Moscow State Institute of International Relations, commuting between Russia and France.
While in France, Luna seized the opportunity to travel around Europe as well as Asia, Africa, and North America. She also spent three consecutive summers in India, acquiring her yoga qualifications from leading gurus. Luna is currently commuting between Auckland, New Zealand, Sydney, Australia, and Los Angeles.
For complete information, please visit: Bay Road Media/"I Choose Life"

Distributed by
Press Release Distributors
Media Contact
Company Name:
Bay Road Media
Contact Person:
Attn: Alison Brook
Email:
a.brook@bayroadmedia.com
Phone:
+64 (0) 275855561
City:
Auckland
Country:
New Zealand
Website:
www.bayroadmedia.com/books.html
Source:
www.getnews.info
Release ID: 36686