United States - December 16, 2022 —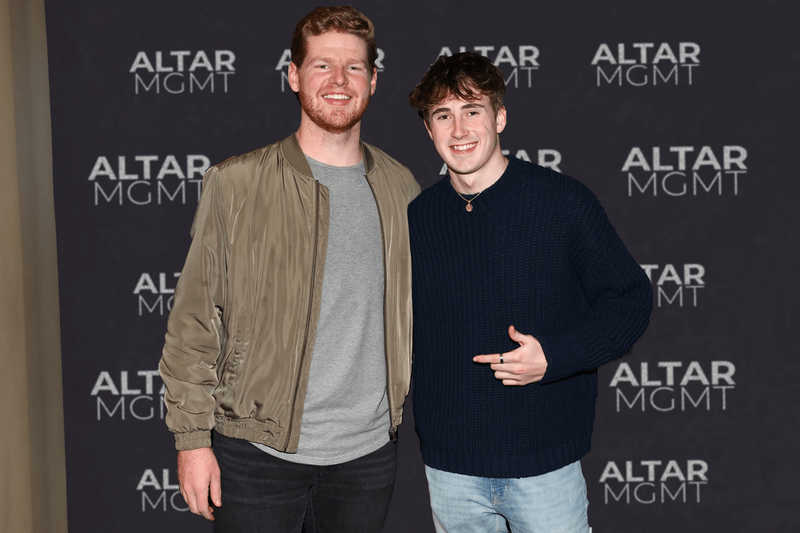 Included in picture, Brent Shows (on left) and Liam Sass (on right)
Altar Mgmt owner Brent Shows says, "Relationships are everything. A successful management relationship must be predicated on true interest of an artists' success. That is the starting point in every decision. What does the artist benefit? What does the artist need? The role of a manager is to see the artists vision, grab ahold, and help them journey towards it. I can confidently say I see Liam's vision and I will do anything in my power to make that vision a reality."
normal the kid is a viral influencer, and an aspiring alternative folk music artist that recently became the main talking point of the internet. Partially deaf and struggling with anxiety, normal found a way to connect with like-minded individuals through his unique authored music and quickly became the beacon of hope for millions of people struggling with mental health issues. 
The rapidly-expanding reach and popularity of this artist reached Brent Shows, owner of ALTAR MGMT, a new artist management company on a mission to empower unestablished artists.
According to the company's founder, ALTAR MGMT is committed to ensuring all their artist clients receive undivided attention and the resources necessary to succeed, imparting the following:
"We at ALTAR MGMT want to proceed with every artist relationship in a selfless way. We put our artist's needs and goals first," said ALTAR MGMT's owner, Brent Shows.
normal the kid embraced this opportunity and is actively working with his new management on promoting his upcoming album, "what was silent"...
Born Liam Sass and now widely known as normal the kid is an individual who felt trapped in a perpetual cycle of mental health challenges. His social anxiety skyrocketed amid the legal-induced situations within the music industry, which confined him to his thoughts and silenced him from releasing music for over a year.
Having found an escape in music, Liam used the opportunity to channel those experiences into his new record, "what was silent"... He also focused on growing his current platforms. He amassed over 630,000 followers on TikTok and accumulated well above 17 million streams across Spotify, Apple Music, and other major streaming platforms on his back catalog.
"There is an epidemic of mental health struggles people are facing. normal the kid is me telling others that this feeling is normal. They aren't alone. I'm just a normal kid, and I'm singing about stuff you experience every day" Liam said. 
What separates normal from his peers is the fact that he is partially deaf. Despite this deficiency, he managed to apply himself to produce over 24 songs and continue his goals of becoming a performing artist. Having very little free time on his hands due to working at a warehouse and juggling the balance of school, normal used every minute to hone his craft and skills. He wrote, composed, produced, mixed, mastered, marketed, and released a full record titled, "what hurts me.." and a single titled "take a moment to breathe", which resulted in over 7 million streams and 2.4 billion TikTok views in as few as six months.

His second release titled "freckles" is scheduled for launch on the 13th of January with his full record "what was silent…" releasing in June of 2023.
More information about normal the kid is available on the artist's official website. 

Contact Info:
Name: Brent Shows
Email: Send Email
Organization: normal the kid, llc x altar mgmt, llc
Address: United States
Website: https://www.normalthekid.com/

Release ID: 89086466