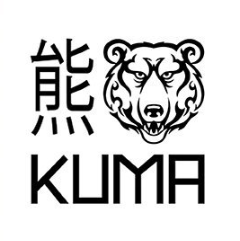 COPENHAGEN DENMARK - November 1, 2019 /MM-prReach/ —
KUMA's multipurpose Chef Knife, a top-rated Amazon product, continues to impress users with its superior quality and performance. This world-class kitchen chef knife recently received an extremely positive Amazon review from a BBQ enthusiast. To date, the product has received more than 650 reviews on the popular online marketplace, maintaining an impressive average user rating of 4.6 stars.
KUMA is a family-run company that strives to create kitchen cutlery pieces that make cooking easy and fun for everyone. The company's sharp kitchen knife is designed to help users delicately slice and chop vegetables, carve meat, or even cut through thin bones. The blades are made of 3Cr13 stainless steel, a variety with high corrosion resistance that sharpens easily. During the production process, the metal is tempered with careful timing to produce a fine balance between toughness and sharpness retention.
One of the noteworthy features of KUMA's chef knife is its Japanese-inspired profile design that combines lightweight materials and a smooth ergonomic handle, offering comfort as well as control. The manufacturer recommends hand-washing this kitchen knife with sheath using a soapy cloth and drying it immediately.
"This knife is worth every single penny and then some! I've had this knife for about four months, and I use it on pretty much everything, and it's AMAZING! It comes out of the package super-sharp and ready to go! I am a BBQ enthusiast, and I didn't really have a knife adequate for cutting my various types of raw and cooked meats," an impressed user mentioned in her Amazon review. "So I started looking around online to find myself a really good for everything knife, and I was prepared to spend up to $150. I know knives can go well beyond that but, I've got a budget. So after looking around at various knife reviews on different websites and YouTube and whatnot I stumbled across a review of this knife, comparing it to a $200 chef knife, and this guy said it was just as good! So I figured I would try it out. I was not disappointed!"
Those interested in finding out more about KUMA's kitchen chef knife should visit the company's official website or Amazon storefront.
###
https://youtu.be/-0UP2y5n0GE
Twitter: https://twitter.com/@KumaKnives
Facebook: https://www.facebook.com/Kuma-Knives-1869737226587027/
Instagram: https://www.instagram.com/kumaknives/
Youtube: https://www.youtube.com/channel/UCb2IKNkx0b04EE3uYRUhjxw/videos
About Us: KUMA was born out of the desire to create high quality kitchen knives that combine razor-sharp performance with high lightweight maneuverability all packaged in a beautiful aesthetic design.
Contact Info:
Email: Send Email
Organization: KUMA
Address: Islands Brygge 30B, 1., door 1 – 2300, COPENHAGEN, DENMARK
Phone: +45 20-646-834
Website: https://www.kumaknives.com/

Source URL: http://prreach.com/?p=35944
Release ID: 88931986