Calgary, Canada - March 29, 2023 /MarketersMEDIA/ —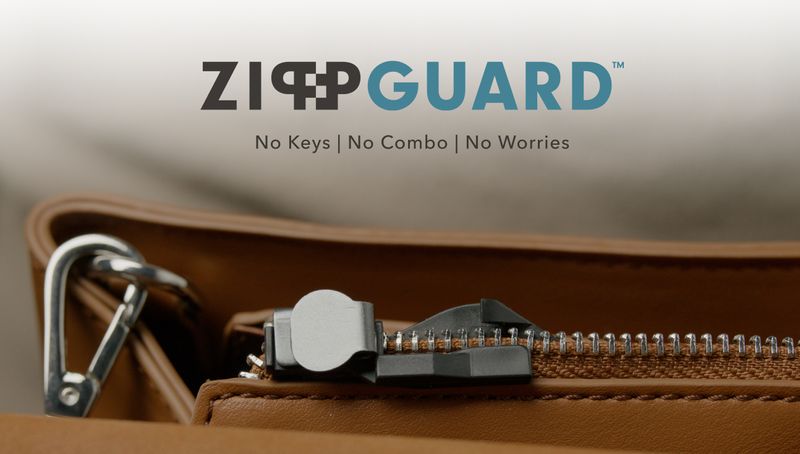 ZippGuard™, the revolutionary new one-size-fits-most safety lock for zipper compartments, is live on global crowdfunding platform Kickstarter and raising funds to bring the project to life. 
In major cities and heavily trafficked tourist attractions worldwide, pickpocketing is a common occurrence. In a split second, an unsavory professional can unzip a bag, take valuable possessions and be gone in an instant. Meanwhile at home, young children are also finding their way into unsecured zipper compartments with millions being exposed each year to poisons in both cosmetics and prescriptions. The ZippGuard™ safety lock is a breakthrough new product that aims to seamlessly safeguard personal belongings from both potential pickpocketing thieves and young children.
"The ZippGuard™ safety lock was inspired by two events that left a deep impression on me and my family. During a holiday in Italy, we were pickpocketed, which made us realize how easily our belongings could be stolen. Then, my daughter injured herself while accessing the contents of my wife's purse, which made us realize the need for a safer and more secure way for locking zipper compartments," says founder Michael Matchett on the inspiration behind the project. "These experiences were eye-opening and they inspired us to create a product that would help other families avoid similar situations and enjoy their adventures with peace of mind."
The ZippGuard™ is an adaptable, patent-pending safety lock designed to fit almost any zipper compartment. It is a simple snap on device that aligns with a zipper track to instantly secure belongings. Similar to a child safety lock on a common pill bottle the ZippGuard™ safety lock requires two hands to open. Backpacks, purses, bags, medicine pouches and luggage can now all be safely toted with a peace of mind due to the extra security that ZippGuard™ safety lock provides.
The ZippGuard™ is proudly made in Canada utilizing an environmentally conscious manufacturer following strict Responsible Manufacturing Processes (RMP), where all scrap material is recycled and no waste is created during the manufacturing processes. After 3 years of testing and prototypes, the ZippGuard™ has been tested to fit 90% of standard zipper sizes with a locking effectiveness of 99%.
"What sets the ZippGuard™ safety lock apart from other solutions on the market is its simplicity, versatility and effectiveness. Unlike other cumbersome safety locks that either require complex combinations or keys, or that must be specifically manufactured into a bag - The ZippGuard™ safety lock is a universal design that fits most zipper sizes and can be easily attached to any bag or luggage," adds Matchett. "This gives customers the freedom to choose from a wider range of bags without having to sacrifice on security. With the ZippGuard™ safety lock, customers can trust that they are taking an extra step in securing their belongings, regardless of the bag they choose to use."
The ZippGuard™ safety lock is currently live and available to support on Kickstarter, please see zippguard.com.

About ZippGuard™
ZippGuard™ Inc. is a family-owned business that was founded in dedication to one goal: to provide peace of mind to families and travelers everywhere. Our patent-pending ZippGuard™ safety lock is the result of two personal experiences that inspired us to create a safer and more secure way to protect your belongings.
For more information on ZippGuard™ please visit zippguard.com
###
Contact Info:
Name: Chris Woods
Email: Send Email
Organization: ZippGuard
Website: https://zippguard.com

Release ID: 89092962