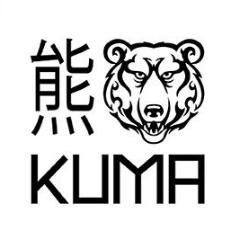 - August 29, 2020 /MM-prReach/ —
KUMA, a distinguished manufacturer of top-notch kitchen knives, is now one of Amazon's most trusted brands. The company's popular Japanese 8 Inch Chef Knife has been used with great satisfaction by thousands of users. Recently, this high-quality kitchen knife has received appreciation from a professional barbecue pitmaster. With close to 1,000 Amazon reviews, this product is currently among the most sought-after products in its category.
More about KUMA chef's knife can be found at https://www.amazon.com/Kuma-Multi-Purpose-Chef-Knife/dp/B01ERJTK1E.
The 8 inch chef knife from KUMA offers cutting-edge sharpness and precision, allowing users to slice meat and vegetables as thin as possible. In addition to delicately slicing and chopping vegetables, it can also be used to carve meat and even cut through thin bones. The product also provides excellent control and comfort by combining lightweight materials, a smooth ergonomic handle, and an elegant Japanese-inspired profile design.
One of the most important features of KUMA's slicing knife is its 3Cr13 stainless steel blade. While an extremely popular metal when it comes to creating an affordable and durable knife, the one downside of using this soft steel material lies in the fact that it loses its sharpness pretty quickly. However, KUMA knives production process involves specific treatment of the steel that has all the benefits of soft steel, like flexibility and reduced chances of chipping, while also having great edge retention.
"A truly amazing knife should be attainable for everyone. Our 3Cr13 steel is a key material that allows us to create high-quality knives that are affordable to all households. We proudly stand behind every single product we produce. KUMA recommends washing all knives by hand with a soapy cloth and dry immediately after. Please remember that dishwashers may harm the blade and handle over time," said a KUMA spokesperson.
"As a professional barbecue pitmaster and competitor, I travel, teach, and torture-test a lot of knives when I'm on the road as Slap Yo Daddy BBQ. I keep my good knives Miyabi, Takayuki, Shun, MAC, etc. at home and bring my Victorinox on the road. I first learned about KUMA from Ryky on Burrfection on YouTube and bought a couple of KUMA 8 inch chef knives to try out. I was very surprised how well these budget knives work and how sharp they are out of the box, and how sharp they stay between sharpening. The Kuma Swedish edge is comparable to the $200–$300 60-layer Damascus VG10 and SG2 core knives I own," a delighted user mentioned in his Amazon review.
"Knife profile is excellent, heel is tall enough not to bump fingers, handle is very comfortable, balance is very good, and finish is excellent with smooth spine and overall smoothness," the reviewer added.
To find out more about KUMA's chef's knife, please visit the company's official website at https://kumaknives.com/.
###
Twitter: https://twitter.com/@KumaKnives
Facebook: https://www.facebook.com/Kuma-Knives-1869737226587027/
Instagram: https://www.instagram.com/kumaknives/
About Us: KUMA was born out of the desire to create high-quality kitchen knives that combine razor-sharp performance with high lightweight maneuverability all packaged in a beautiful aesthetic design.
Contact Info:
Email: Send Email
Organization: KUMA
Address: Islands Brygge 30B, 1., door 1 – 2300, DENMARK
Phone: +45 20-646-834
Website: https://www.kumaknives.com/

Source URL: https://prreach.com/?p=42196
Release ID: 88974750