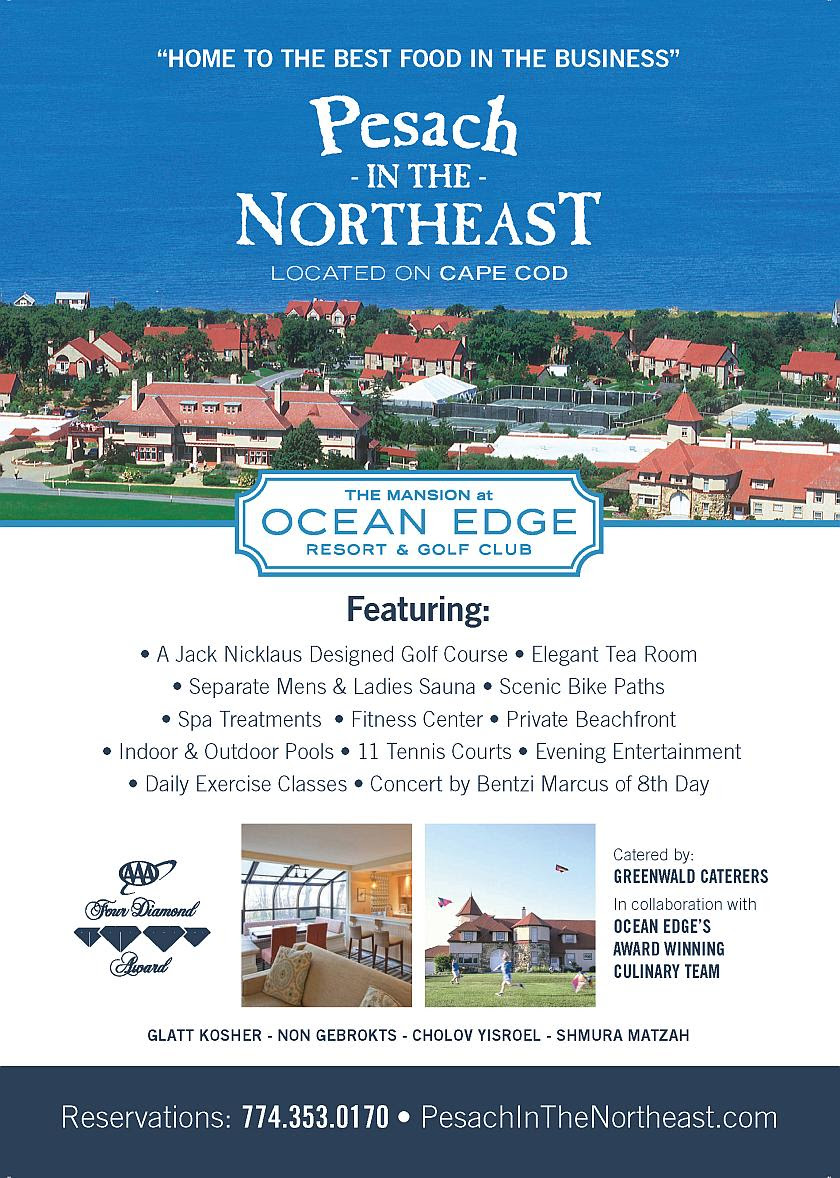 - March 19, 2014 /MarketersMEDIA/ —
"Pesach in the Northeast," is a collaborative effort between the highly respected and experienced culinary team of Greenwald Caterers and Mr. Bruce Backman, longtime logistical director of the "National Jewish Retreat," the Jewish Learning Institute's (JLI) highly regarded and much celebrated summer learning program.
For Pesach 2014, we have selected a world class resort nestled on over 450 oceanfront acres on Cape Cod, one of the most famed and picturesque places in the world. The award winning Ocean Edge Resort & Golf Club in charming Brewster Massachusetts has the elegance and feel of a sprawling English estate with superb service and a plethora of world class amenities.
Special Guests include Rabbi Ephraim Buchwald and Rabbi Simon Jacobson!
From the time you step foot on the property you will be mesmerized by the beautiful views. Our staff spends time and effort to make each persons experience as relaxing and luxurious as possible. We will ensure that each guest has the personal attention they need to enjoy themselves during their stay at Pesach in the Northeast.
Recreational options abound, from the magnificent indoor pool and fitness center to the 11 Har-Tru Tennis, to New England's only Jack Nicklaus designed golf course, consistently ranked amongst the nation's best.
For those interested in simply reading by a roaring fire or simply exploring the resort's spectacular grounds and scenery Ocean Edge will most certainly not disappoint, even the most discerning of guests.
Guests should rest assured that every effort is being taken to guarantee a memorable and flawlessly run Strictly Kosher Pesach Holiday complete with Uplifting Prayer Services, Stimulating Lectures, Exhilarating Children's Activities, Superb Entertainment and of course, the Finest in Gourmet Cuisine.
We Look Forward To Welcoming You,
Chag Sameach,
Reserve Now Call Us At 774.353.0170

522 Lefferts Avenue #3H
Brooklyn NY, 11225
Phone #: 774.353.0170
Fax #: 774.256.7505
Email Address: info@PesachIntheNortheast.com
Distributed by
Kosher Media
Media Contact
Company Name:
Kosher Media
Contact Person:
Larisa Bykova
Email:
larisa@koshermedia.com
Phone:
2125644309
Address:
43 West 33rd St Suite#405
City:
New York
State:
NY
Country:
United States
Website:
www.koshermedia.com
Source:
www.getnews.info
Release ID: 36890