Cookeville, Tennessee, United States - September 14, 2023 —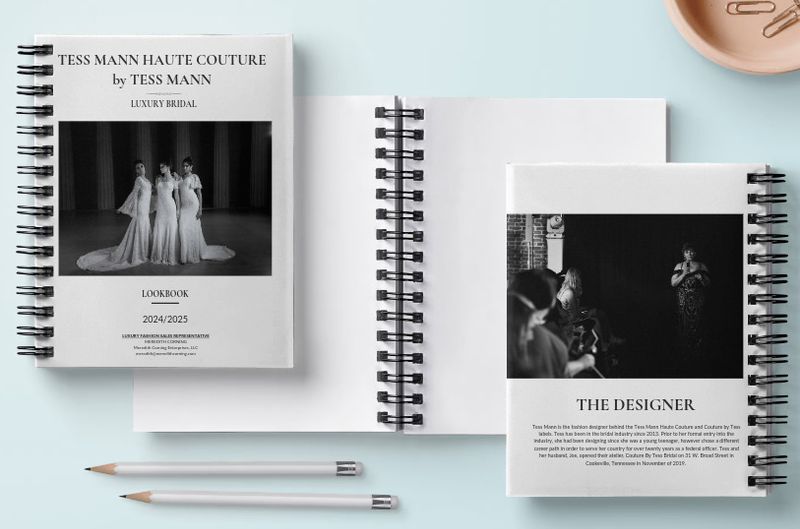 Renowned bridal fashion designer, Tess Mann, is thrilled to launch two captivating collections with new lookbooks, showcasing an array of breathtaking wedding dress designs. Aimed at bridal retail stores seeking exquisite offerings for their discerning clientele, these distinctive designs are now available for wholesale purchase.

The Nostalgia collection 2024-2025 is available under the Couture by Tess label. This collection nods to Old Hollywood glamour with modern touches. The public can view this collection's lookbook here: https://tinyurl.com/2p8ybjtx 

The New Discovery collection 2024-2025 is available under the Tess Mann Haute Couture label. New Discovery is a curated collection that has utilized designs from previous collections by fashion designer, Tess Mann, and re-imagined based on clients' feedback from over the years. The public can view this collection's lookbook here: http://tinyurl.com/3av9zxpt 

Drawing inspiration from a harmonious blend of timeless elegance and contemporary trends, Mann's latest collections embody the vision and artistry that brides-to-be seek when searching for their dream wedding gown. Featuring meticulous craftsmanship, luxurious fabrics, and impeccable detailing, each design exudes sophistication, grace, and romance.

The release of our new lookbooks presents a unique opportunity for bridal retail stores to add a touch of exclusivity and elevate their inventory with our exceptional wedding dress designs. Here are some compelling reasons why you should consider including our collection in your esteemed selection:

1. Exquisite Craftsmanship: Each wedding dress in our collection is meticulously crafted, reflecting our commitment to unparalleled quality and attention to detail. From intricate lacework to exquisite beadwork and delicate embroidery, our designs capture the essence of true craftsmanship.

2. Versatile and Diverse Styles: Our collection features a wide range of silhouettes, from classic ball gowns to sleek mermaid cuts and ethereal A-lines in an array of sizes. With versatile necklines, sleeve options, and embellishments, we offer designs to suit every bride's unique style, curves and preference.

3. Unforgettable Customer Experience: By becoming an authorized retailer of our wedding dress designs, you can provide your customers with an unforgettable shopping experience. Our dedicated team will support you every step of the way, assisting with personalized consultations, fittings, and styling advice to ensure each bride finds her perfect gown. Ask about our trunk shows.

4. Exclusive Wholesale Benefits: As a wholesale partner, you will enjoy exclusive benefits including competitive pricing, flexible order quantities, and priority access to limited editions or customizations. Partnering with us will enhance your store's reputation as a destination for sophisticated brides on the search for unparalleled elegance.

5. Marketing and Promotional Support: We believe in establishing a collaborative partnership with our retail stores. As an authorized retailer, you will gain access to our marketing materials, including high-quality images, promotional content, press releases, publications and social media support. We are committed to actively promoting our designs and driving awareness of your store's association with our brand.

The Tess Mann team is excited to forge partnerships with forward-thinking bridal retail stores that share our passion for bringing dreams to life. Embrace the enchantment and allure of our latest collection and create lasting memories for your customers on their special day.

For further information and to find out more about becoming a wholesale partner, please reach out to our luxury goods B2B sales team at meredith (at) meredithcorning (dot) com or to place an order, please contact Tess Mann at tess (at) tessmannhautecouture (dot) com.

About: Tess Mann is the fashion designer behind the Tess Mann Haute Couture and Couture by Tess labels in addition to owning a bridal boutique under the name, Couture by Tess Bridal. Tess has been in the bridal industry since 2013. Prior to her formal entry into the industry, she had been designing since she was a young teenager, however chose a different career path in order to serve her country for over twenty years as a federal officer. In September 2018, Tess became a US Trademark Designer with her designs being protected by the US Patent Office. After serving the Memphis, Tennessee area for a little over six years in the bridal industry, Tess and her husband, Joe, opened Couture By Tess Bridal on 31 W. Broad Street in Cookeville, Tennessee in November of 2019. Tess is also the talk show host of Couture Chats with Tess on Youtube where she interviews fashion, fine arts and event industry professionals in her bridal boutique's parlor.
About Us: Tess Mann is the fashion designer behind the Couture by Tess and Tess Mann Haute Couture labels based in Tennessee, USA.
Contact Info:
Name: Tess Mann
Email: Send Email
Organization: Couture by Tess
Website: https://www.couturebytessbridal.com/

Video URL: https://youtu.be/eXuvkMvylU0?si=8WisK_Q76QVEvTye
Release ID: 89107487