Jamnagar, Gujarat, India - March 16, 2023 /MarketersMEDIA/ —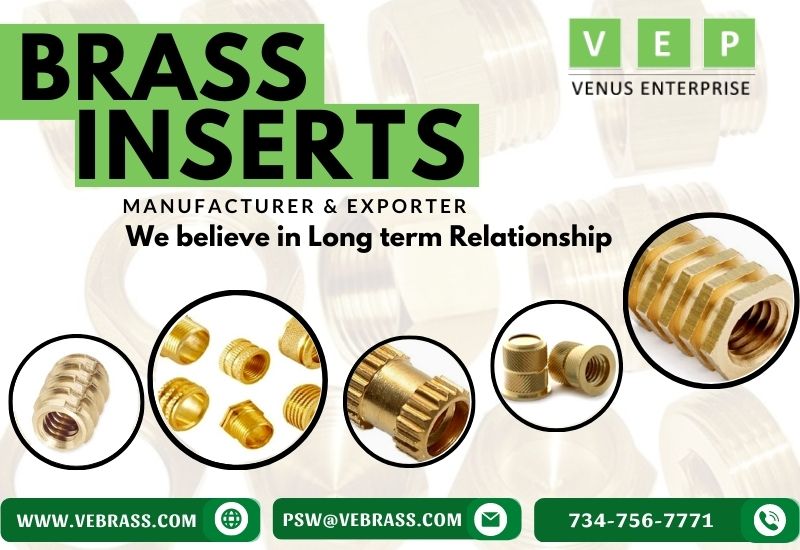 At Venus Enterprise, the leading Indian manufacturing unit for metallic and allied units in Gujarat, the focus is to provide the highest quality metallic and allied components and complete customization to serve the world's businesses with the best in the industry. The company specializes in metal and allied components production for electronics, medical equipment, household appliances, safety equipment, monitoring systems, and many more industrial and commercial applications. With every project, Venus Enterprise strives to exceed the expectations of its customers with premium quality, high precision, customization, modern technologies, and a highly certified range of products.
Venus Enterprise, an Indian metallic and allied components manufacturer, is committed to peak performance and full service. The ISO 9001-certified company features an impressive portfolio of over 1500 medium to high-volume brass products used by OEM Companies. These products can be further sourced for the creation of precision components, Brass Inserts, brass turned parts, shrew machine parts, and fasteners, including sub-assemblies to specific drawing resilience. Venus Enterprise exports its products all over the USA, the UK, Europe, the Middle East, and Asia, where they have garnered acclaim at every level.
"We are very happy with the quality of products we have got from Venus Enterprises. They are very professional and keep to their commitments," says Andrew Foster, senior buyer at OEM in Singapore.
Unlike the other manufacturers of the Industry, peculiar attention is given to avoiding defects at Venus Enterprises. The advanced automated sorting system guarantees that only premium-quality products make it to the supply chain. The use of mercury-free and radioactive-free materials from ethical and responsible sources ensures that the final product from Venus Enterprises complies with all international safety and quality standards.
The need-based product customization and design positively differentiate Venus Enterprise from the rest of the lot. They provide the best quality customization products for the best price due to their best-in-class hardware, talented workmanship, precise measuring instruments, and experienced administration.
They offer exceptional customization manufacturing services in India to its widespread OEM customers. "Venus Enterprise team's innovative solutions helped us redesign our parts and cut out additional costs while maintaining functionality and efficiency of the product", says Mr. Christopher Eberhard, Director of the Engineering firm in Australia.
With a solid 100+ recurring clientele worldwide, to maintain its global positioning as the top manufacturer and supplier, the company is committed to remaining contemporary by systemizing advanced technologies, and arranging learning opportunities for all workers via training policy, followed by environment and health policies. Machinery ensures the best performance standards through strict maintenance and upgrades.
Some of their bestselling range of products include brass pipe fittings, brass CNG LPG parts, brass inserts, brass fasteners, brass cable glands, brass hose fittings, and more. Venus Enterprise's expertise in advanced manufacturing processes like hot forging, cold forging, casting, etc., and complex computer-aided manufacturing processes like CNC and VMC machining help them stand out from the rest.
The team at Venus Enterprise looks forward to finding trustworthy partners to take up the business more globally. Being a reputed brand in the global arena for the last twenty-five years shows the promising potential that Venus Enterprise has with it to take the business further. They expect to partner with respectable business partners who align with their quality and customer service standards and to grow up to be the top player in global metallic and allied components production.
"Venus Enterprise sincerely hopes to be your partner for worldwide business. We commenced operations in the brass industry with a vision of manufacturing, supplying, and exporting high-quality brass products as per the various quality standards. Each project we complete is fully customized according to the requirements of our clients. We offer 25 years of experience and rapid metallic and allied components production, which sets us apart from our components," says the Founder of Venus Enterprise, the leading manufacturer and supplier of brass components in India.
Venus Enterprise is a professional metallic and allied components manufacturer based in Jamnagar, Gujarat, India. The company offers metallic and allied components processes, custom metallic and allied components, and metallic and allied components products. Venus Enterprise specializes in brass components manufacturing and supply for industrial and commercial applications. They aspire to leverage high-end technology and acquire global clientele. For more information, please contact info@vebrass.com.
Contact Info:
Name: Mr.Ashish Kamani
Email: Send Email
Organization: Venus Enterprise
Website: https://vebrass.com/

Release ID: 89091971