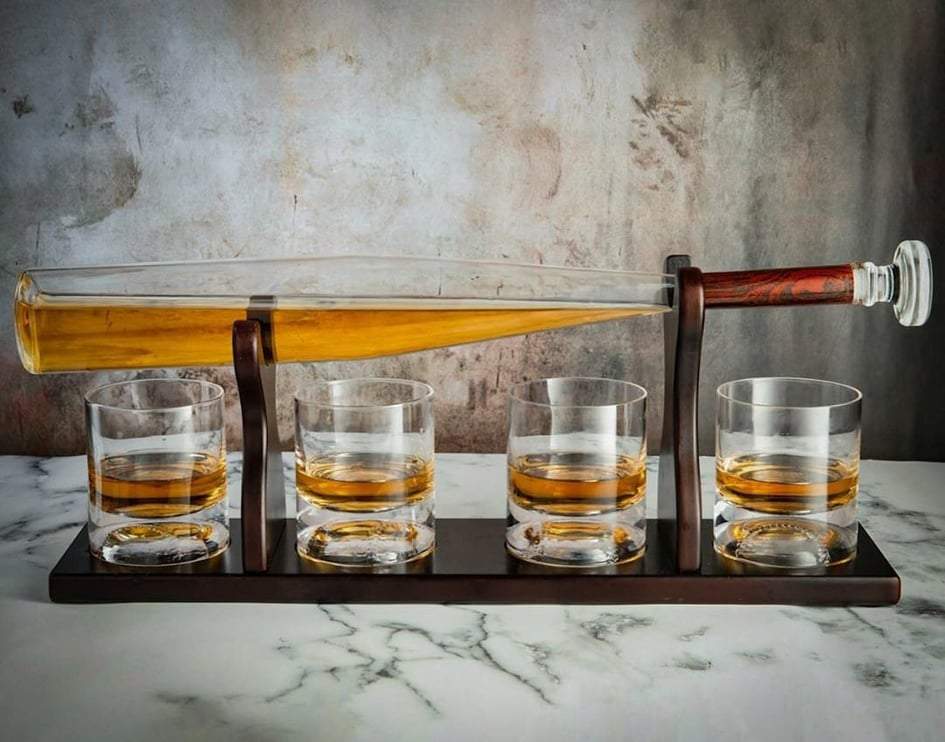 - July 6, 2021 /MarketersMedia/ —
Established as a famous e-commerce store for finding artistic pieces as presents, Surprises & Gifts released one of its finest gift selections for its customers in June last month, specifically for the father's day celebration. Think of it as getting a gift that combines two things you love the most, baseball and whiskey. That's what Surprises & Gifts offer; a life-size baseball bat decanter with four whiskey glasses as a complete collection to a perfect gift set for any kind of celebrations or special occasions such as birthdays, anniversaries, weddings, and more.
Surprises & Gifts features many other pieces of items as well, such as the gun whiskey decanter set, golf ball whiskey glass, and dumbbell glasses. But stood out among them was the baseball bat decanter set with four premium whiskey glasses as the most significant highlight as well as the store's best-selling product. Surprises & Gifts is exceptionally picky in its selection of products to display in-store. So, what was featured on their front page is something to be looked forward to whether it is from the point of quality, design, or exclusivity.

The exquisite baseball bat decanter gift set is offered by Surprises & Gifts in collaborations with The Wine Savant for all wine and whiskey lovers and collectors of limited edition alcohol decanters. With this, The Wine Savant is the perfect partner in offering a luxurious masterpiece of handmade glassware.
This hand-crafted whiskey decanter will also make an eye-catching and elegant addition for unique glassware and decanters collectors. The baseball bat decanter boasts a distinct yet unique design compared to the more conventional decanters that most other shops offer. It gives off a touch of elegance and sips of history with how the decanter has a blend of modern and traditional touch.
The baseball bat decanter by Surprises & Gifts is made out of 100% lead-free borosilicate glass and is a great alternative to crystal or glass decanters that the market offers. The use of lead-free borosilicate glass instead of crystals or regular glass materials makes the baseball bat decanter glass thicker with more superiority in quality. With that, it serves to provide higher durability and resilience that could make it a great keepsake that would last for generations to come.
Suppose the concern of the baseball bat decanter set is in the material and production method. In that case, there isn't a need to worry as the decanter isn't made of thin paper walls or cheap materials that one would sometimes expect from online shopping. Surprises & Gifts cares about the quality just as much as its artistic appearance.
In addition to that, for customers who would use the decanter to serve liquor instead of keeping it as collectibles or display, the baseball bat decanter comes with an airtight ground glass stopper. This type of stopper ensures that the quality of the alcohol poured inside is preserved well by not overexposing the drink to air which causes evaporation of the alcohol quicker. An airtight seal is one of the primary qualities buyers of decanter look into. So, the baseball bat decanter by Surprises & Gifts provides the same reassurance that wine and whiskey drinkers need.
Besides all the incredible qualities you can get from just the decanter itself, one of the huge pluses is that the baseball bat decanter comes with a complete set of four whiskey glasses and a beautiful decanter holder made of mahogany wood. The drinking glasses also display an intricate design with protruding baseball print right at the bottom of the glasses, giving off more exclusivity to its overall design and matching set.
Moreover, the baseball bat decanter by Surprises & Gifts boasts a size similar to an actual baseball bat with a capacity of just about 750ml. Hence, the baseball bat decanter is actually large enough to hold the entire volume of a standard whiskey or wine bottle.
A spokesperson from Surprises & Gifts said, "we get a lot of customers telling us how surprised they were with the quality of the baseball bat decanter. They just didn't expect it to be that good, especially with the intricate designs of a baseball at the bottom of the drinking glass. It was quite a surprise for most of them when they thought it would just be an ordinary whiskey glass to make it a gift set."

The spokesperson also added that just like the store's name Surprises & Gifts, "we want to focus on items that will get our customers feeling excited and fun about shopping online. An item that could give them a huge surprise that is beyond what they expect. So instead of offering a wide variety but overproduced and unoriginal pieces, we crafted a distinctive collection of items that we think would be a fun and unique gift idea for anyone that is up for surprises."

The glasses may be designed for whiskeys, but the spokesperson went on to emphasize, "we don't want you to think that the baseball bat decanter is just for whiskeys. In fact, this decanter is perfect for any kind of alcohol, from vodka to rum, scotch, brandy, and many more." As an avid drinker and collector of whiskey decanters, he finds that the baseball bat decanter would be a perfect finishing touch for a home, bar, or office with the element of a connoisseur experience.

Getting the complete set of baseball bat decanter and four premium whiskey glasses on Surprises & Gifts isn't the only perk that one will be receiving. From the aspect of the store's customer help and support, the e-commerce store also prioritizes a consumer-friendly experience for all its customers. With any items, purchase on Surprises & Gifts will give customers a guarantee of an SSL secured payment.
Adding to that, for every order of the baseball bat decanter set made by the customers, there will be a tracking number provided to assure them of their item's delivery status. As products could be from any part of the world, international shipping takes a long time. Still, Surprises & Gifts ensures all its items are delivered out the soonest possible with a guarantee that customers get their items in perfect condition.
Furthermore, buyers can be reassured that their purchases are backed up with a 14-day risk-free guarantee of order return. If any cracks or defects are found in the item delivered, customers are entitled to make an immediate return for an exchange within 14 days.

Some of the items in the store also offer 100% free shipping. That, including the baseball bat decanter gift set, to all around the United States (US). The store is currently running a limited-time deal which offers a 70% discount for every purchase made of this item.
With the rising trend of seeking out unique and personalized gifts in online purchasing, interested online shoppers can find the limited edition baseball bat decanter right here, at https://www.surprisesandgifts.com/products/baseball-bat-whiskey-decanter-set-with-4-baseball.-glasses.

About Surprises & Gifts
Surprises & Gifts is an e-commerce store that offers its customers a vast number of unique and thoughtfully curated gift items that complement any kind of occasion ranging from birthdays to anniversaries or any form of celebrations throughout the year.
Carrying the motto of not being a "cookie-cutter apparel store with lackluster selection and boring gifts," they are an e-commerce store that wants and strives to keep things exciting and will ensure that their collections never run stale. Every month, Surprises & Gifts will put up about 100 new and exceptional items that keep up the hype for their customers to discover. The baseball bat decanter is one of their most notable selections so far.
What many didn't know about is that the baseball bat decanter and other pieces of items Surprises & Gifts choose to display on the store are never mass-produced. The items are selected for the reason that they are mostly hand-blown by skilled artisans from Brooklyn, New York. To learn more about them and their unique gifts, visit the online store at https://www.surprisesandgifts.com.

Contact Info:
Name: Gerald
Email: Send Email
Website: http://www.surprisesandgifts.com

Release ID: 89033787