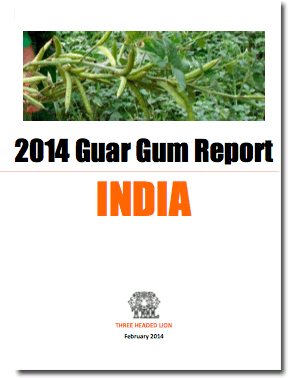 - February 26, 2014 /MarketersMEDIA/ —
Houston, TX / Three Headed Lion Inc. (THL) today announced the release of its latest market report - 2014 Guar Gum Report: INDIA. The report analyzes the latest state of the guar gum market and provides guidance on what to expect as the year unfolds.
Guar gum is an ingredient used in everything from baking and beverages, cosmetics, pharmaceuticals, fertilizers, to fracking in the oil and gas industry. In recent years, the commodity has seen constant fluctuations and price volatility. Industry experts are concerned that the yo-yo effect of demand and supply continues to reveal a market weakness.
As forecasted in Three Headed Lion's September 2013 report, the total guar production in India reached 2.3 million metric tons in 2013 as a result of higher sowing. The market is entering 2014 with adequate availability of guar seeds to meet projected demand. Prices are also down this year due to strong supply, and stable demand situation.
Company president and founder Javed Matin explains: "The market has kicked off 2014 with a strong supply of guar seeds, stable demand and low prices. But despite these favorable conditions for buyers, the guar gum market remains worrisome, due to the complex and opaque nature of its supply chain. We see signs that businesses remain exposed to manipulation by vested interests."
Political considerations are also going to be a factor, as India is going through its election cycle this year, as the report points out.
The 74 page report uncovers critical market data for planning and budgeting, negotiations, and supplier selection purposes.
The report is available online at http://www.threeheadedlion.com/
IN THIS GUAR GUM REPORT:
What market forces are at play that could disrupt the stability in guar gum supply and prices in 2014? What should buyers do to mitigate risk? Who are the key stakeholders in the industry, how do they act and what impact they make? What is the state of guar gum's supply chain? What are the latest drivers and inhibitors for this industry? What is the projected demand for guar gum? What is the consumption mix by industry sectors? Who are the leading buyer countries for guar gum?What is the current stock of guar and can it meet projected demand? What is the processing capacity and can it meet projected demand?
Who should use this report?
Business and financial planners, business unit heads, purchasing managers, logistic managers, equity researchers, hedge fund managers, Investors, market researchers, and others interested in guar or guar gum.
DOWNLOAD the 2013 Guar Gum Report: INDIA
ABOUT THREE HEADED LION:
Three Headed Lion, Inc. (THL) is a leading India focused distributed market intelligence, research & risk management company. The company is headquartered in Houston, TX.
THL has unrivaled last mile intelligence connectivity in India. We provide macro and ground-level insights and expertise to global businesses, investors and institutions to enable success in the complex, high potential Indian market. Our operational network of 1,000+ market intelligence and information (MIIPs) providers located in 640+ districts across the subcontinent.
Three Headed Lion strives to:
- Provide sound and timely expert analysis & judgment on developments and issues that impact India and the global economy.
- Offer robust understanding of India's risk environment through political, economic and societal lenses.
- Drill down policy level/regulatory changes to reveal its impacts on sectors, companies & people with varying degrees of purchasing power.
- Unearth what's trending in India (not on Twitter), but in its buoyant emerging market at macro, commodity and micro levels.
- Provide comprehensive market intelligence and micro level data on key sectors.
- Objectively assess the effectiveness of citizen-centric government programs and initiatives.
For more information, contact us at http://www.threeheadedlion.com/
Media Contact:
Javed Matin
javed@threeheadedlion.com
713.962.9168
Release ID: 34397