Lithuania - September 21, 2022 —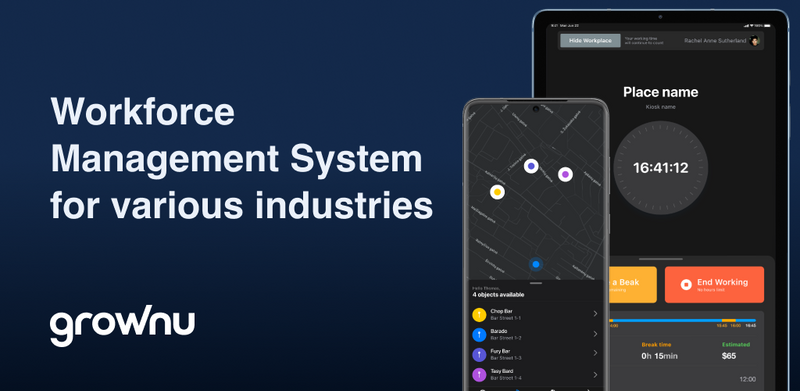 The term employee hours is comprised of both work time and breaks. Without a well-structured clock-in system, ensuring that employees work the correct number of hours and take breaks long enough to maintain a high level of focus and performance is very difficult. 
Grownu, a Lithuania-based company offers a simple solution: a system designed to help business owners effortlessly manage the work hours of their employees and create a healthy work environment built on the pillars of trust. 
The company emerged on the Lithuanian market as a local workforce management company. Its impeccable services and revolutionary solutions were of invaluable help to numerous Lithuanian businesses, which ultimately led to Grownu expanding its reach globally in record time.
Grownu solutions are versatile and enable business owners to tackle a variety of workforce-related challenges. The company's simplified clock-in & clock-out system has streamlined workforce management, bringing accurate analytics and effortless attendance tracking, custom roles, customized alerts, shift scheduling, verification flow, and many other benefits to the table. 
With Grownu's system, employees can punch in and punch out in seconds, which enables them to focus on more important tasks without wasting any time:
"Companies can save time and resources by avoiding tedious and time-consuming paperwork for their employees and managers. With an electronic time tracking and work time logging system, all working times of the company's employees are logged automatically. This makes it easier for both managers and employees, as it is not required that someone spends their valuable time reporting or editing working times, overtimes, or deductions," said Grownu's spokesperson. 
Knowing that staff augmentation is becoming more popular, many employees work in different time zones. To ensure business owners can accurately track all business hours while enabling employees to clock themselves in at their leisure, Grownu introduced the Different Timezones feature. 
With the Additional Rates feature, Grownu users can set custom rates for various occasions, whether it be their employees working night time hours, on national holidays, or on organization-related holidays. 
Another reason why Grownu is considered one of the leading workforce management solutions is that it offers a variety of different options for the user's employees to clock in and clock out. 
By using the mobile app's Schedule Module, the employees can punch in the scheduled shift. Grownu offers its users full customization of the module, providing a flexible way of scheduling shifts. 
Employees working in multiple positions or on several projects typically need to select a job type or site before beginning any task. Grownu supports all of these features, allowing employees to punch in after selecting a site and/or job type. 
Its basic "clock in" feature is also accessible via the Grownu mobile app for employees that do not need to meet any special conditions. 
More information about Grownu is available on the company's official website.

Contact Info:
Name: Grownu Team
Email: Send Email
Organization: Grownu
Address: Lithuania
Website: https://grownu.com

Release ID: 89081803