Edinburgh, United Kingdom - August 19, 2022 /MarketersMEDIA/ —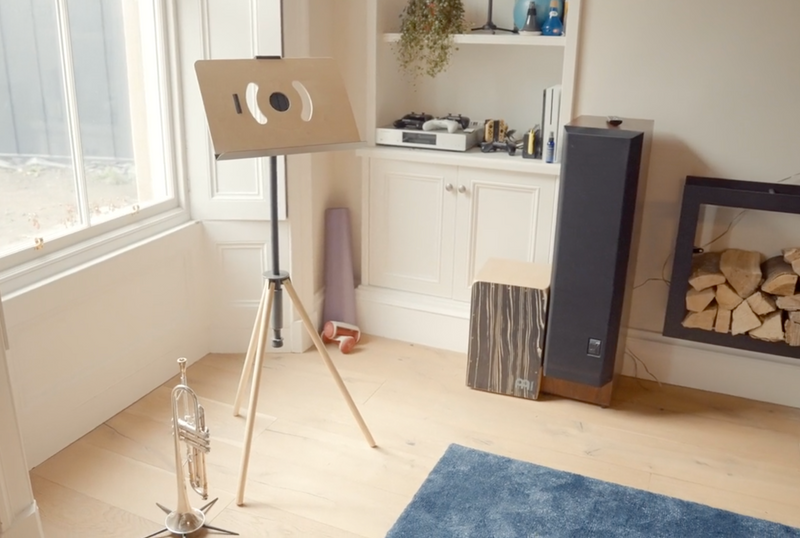 Grandstand, the revolutionary new music stand from Noisy Clan designed to evolve with a musician's playing style, is live on Kickstarter and a breakout crowdfunding success story having raised more than $125k in under a week.
The humble sheet music stand has essentially remained the same since its initial conception years ago. Today's musicians though, are playing off more than a sheet of paper— phones, tablets and laptops are quickly finding their way as an integral and often preferred way to display music. Grandstand is an innovative new music stand that aims to modernize the classic music companion.
"The way we view sheet music has changed a lot over the last 100 years. Unfortunately, home music stands haven't kept up. Musicians need more versatility than ever before and the current market offerings aren't meeting that standard, spurring us to create what we believe is the most versatile stand on the market," says founder David Law on the inspiration behind the project.
Grandstand is a music stand system designed to fit the way musician's play today. This innovative music stand offers unmatched height range and interchangeable media plates to hold tablets and laptops. It utilizes a classic tripod base which can be swapped out for a tabletop base, a horizontal standing desk mode and a fully customizable vantage angle to ensure the best view. Grandstand offers a sleek, modern design with finely finished wood which fits beautifully into any home. Noisy Clan, a Red Dot award-winning company, has designed the stand for endless versatility beyond merely holding sheet music— working, video calls and consuming media are all better on a Grandstand.
"Grandstand's ultimate selling point is its ability to adapt to any scenario that a musician may find themselves in. Grandstand's Quick-click mechanism allows media plates to be swapped in a matter of seconds. There is also a range of plates that will continue to grow post-launch," adds Law. "Its extreme height adjustment provides it with the largest height range on the market. When you combine this with a standing desk mode and tabletop option you can see why it towers over the competition."
Grandstand is currently live and available to support on Kickstarter: www.kickstarter.com/projects/noisyclan/grand-stand-one-music-stand-system-any-home-any-media 

About Noisy Clan 
Noisy Clan is a group of musicians and designers who want more people playing more music. We believe that there is always a better way to do something. Every Noisy Clan product is infused with a spark of innovation to solve the daily struggles of musicians around the world. Our unique blend of Scottish and American heritage has led to the creation of a team who'll stop at nothing to inspire the next generation of musicians to make some noise.
For more information on Noisy Clan, please visit noisyclan.com
###
Contact Info:
Name: Chris Woods
Email: Send Email
Organization: Noisy Clan
Website: http://noisyclan.com

Release ID: 89080396