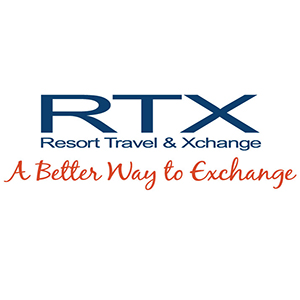 - March 27, 2014 /MarketersMEDIA/ —
RTX Premium Plus Membership Offers Exclusive Benefits and Vacation Opportunities
Resort Travel & Xchange (RTX) is proud to announce that Festiva Adventure Club (FAC) has chosen RTX as its preferred exchange provider, giving all FAC members a Premium Plus membership in RTX. Festiva Adventure Club (FAC) is committed to providing its members with flexible vacation options that suit the needs of a variety of vacation owners, and believes that RTX is the best exchange company to help it reach that goal.
"Over the years we have learned from our members as well as from our competition and peers in the vacation ownership industry," said Rich Hartnett, senior vice president of sales for FAC. "We have taken our own experiences as well as feedback from our members to heart and have partnered with Resort Travel & Xchange (RTX), a company that we think offers the best options in the industry when it comes to vacation ownership exchange."
RTX Premium Plus is the highest level of membership offered through RTX. Through RTX, FAC members will be able to enjoy a wide range of benefits and vacation opportunities including a plethora of exchange and other travel options that are unique and affordable.
How RTX Is Different from Other Exchange Companies:
Traditionally, exchange companies allow timeshare or vacation interval owners to exchange their weeks of ownership with another timeshare owner to make their experience more flexible. But traditional exchange companies don't recruit members; they recruit affiliated resorts. As a result, the system typically only allows members to trade within a directory of resorts that have affiliation agreements with the exchange company. Owners with weeks or points memberships at multiple resorts may be forced to use multiple exchange companies.
RTX is different. It revolves around its members. RTX members can place search requests anywhere, after which dedicated Travel Consultants search for availability in all resorts and hotels, rather than just within a directory. RTX members also have access to low exchange fees, the flexibility of split week reservations and the longest deposit period in the exchange industry. RTX Premium and Premium Plus members also enjoy a whole world of travel benefits beyond exchange. RTX getaways are offered exclusively to RTX members and are some of the best last minute deals for luxury resort rentals available anywhere. Our travel center allows members to book hotel, flight, rental car and more from one convenient location. And with a rebate reward program, members get $20 to $40 off of future RTX purchases for each exchange transaction.
A Sampling of RTX Benefits:
Longer deposit life: Deposit life of up to 48 months.


Low exchange fee: The RTX exchange fee is only $117. That's for domestic or international travel, whether booked online or over the phone.


Getaways as low as $49 per week: Members can book as many additional getaways as they like without having to exchange, and our last-minute deals can be as low as $49 for an entire week at a fabulous resort.


Rebates: Each time certain transactions are made with RTX – like exchanging or booking travel through RTX – members get rebates of up to $40 toward future purchases with RTX.


Split week deposits: Weeks or points deposited with RTX, can be used for two shorter stays – one three-night and one four-night stay.


Hotel, Car, Airfare and more: Members can plan their entire vacation with RTX, even without exchanging. RTX offers great deals on travel, car rentals and much more.


About RTX:
Resort Travel & Xchange (RTX) is a timeshare and vacation ownership exchange company based in Asheville, N.C. RTX works with a number of resorts and developers throughout the world to provide the best exchange options possible to its members. In addition to exchange services, RTX offers a number of travel benefits to members such as trip protection, rebates, travel discounts and more. RTX has approximately 60,000 members.
About FAC:
Founded in 2005, the Festiva Adventure Club (FAC) is a points-based vacation ownership program with 30,000 members and a network of 27 resorts throughout the Southeast, Northeast, Midwest and Caribbean. The goal of FAC is to provide the highest level of customer service and the best quality of vacation experiences to all members and guests, with a strong focus on its purpose: Festiva is passionately committed to improving people's lives by providing a lifetime of travel, vacations and priceless memories.
Media Contact
Company Name:
Perspective North America LLC
Contact Person:
Keisha
Email:
Send Email
Phone:
4077303565
Address:
7380 W Sand Lake Road, Suite 500
City:
Orlando
State:
Florida
Country:
United States
Website:
http://www.perspectivemagazine.com
Source:
www.abnewswire.com
Release ID: 38093