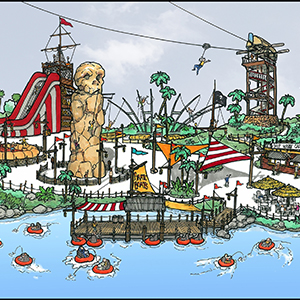 - March 27, 2014 /MarketersMEDIA/ —
The amenity-creating company is up for prestigious award; Extreme Engineering's Philip Wilson to take part in panel discussion
Extreme Engineering, a supplier of ziplines, mobile and stationary climbing walls, and extremely interactive – and fun – packaged amenity solutions to the resort industry, will be very involved in the American Resort Development Association's (ARDA) upcoming ARDA World 2014. The event is being held April 6-10 at the Venetian Resort Hotel & Casino in Las Vegas, Nevada.
Extreme Engineering's "High-Action Adventures™" product was chosen as one of a handful of finalists for the ARDA "Best Resort Amenities" award out of 400 nominations. What's more, the company also will be debuting a scale model of the new, High-Action Adventures product at their display in the ARDA World exhibit hall (booth 900).
"We are thrilled that our High-Action Adventures™ product has been selected as a finalist by the ARDA judges' panel," says Philip Wilson, Extreme Engineering's vice president of marketing. "This is a culmination of our work in the vacation ownership industry and a testament to both the quality of our products and the fantastic return on investment they provide."
The booth model, based on a recently announced upcoming Extreme Engineering installation at Summer Bay Orlando Resort, demonstrates the customizability inherent with the product. "The theming possibilities are endless," Wilson explains. "You can theme the High-Action Adventures™ product as a pirate cove, lost temple, jungle or even an adventure safari. And co-creation is essential in the timeshare industry," he adds.
Extreme Engineering currently provides over a dozen resorts with popular, recreational activities that are highly effective in attracting youthful buyers. "We have had great success in helping timeshare resorts appeal to millennial buyers by providing memorable experiences on-site, as well as giving resorts the opportunity to upsell their clients through attraction-based amenities," Wilson notes. Extreme Engineering's new slogan "Making Time Shares Grow Young With Fun™" has aided the company in clearly addressing the pressing issue of attracting the next generation of customers.
In addition, Wilson will be discussing this topic when he participates in a panel of experts during the ARDA World panel session, "Fundamentals of Resort Operations." Wilson also will be speaking about maximizing vacation experiences and creating fun environments in the context of attracting millennial buyers. The session is slated for Monday, April 7th, at 10:15 a.m. and will be moderated by Christie Lodge Owners Association's Lisa Siegert-Free. Joining them will be Kathryn Norton of Sheraton Vistana Villages and Laura Anderson of Breckenridge Grand Vacations.
About Extreme Engineering:
With over 19 years in experience and 5,000 customers worldwide, Extreme Engineering has provided extreme thrills to customers such as Disney, Six Flags, NASA, US Military, Westgate, Marriott and many more. As the original creators of the mobile climbing walls and Auto-belay™ systems, Extreme Engineering has been globally recognized as the primary supplier in ziplines, mobile and stationary climbing walls and extreme, interactive fun. Extreme Engineering is the first company in amusement history to achieve the amazing honor of "Best New Product" 5 years in a row and 8 consecutive industry awards. For more information on Extreme Engineering, please visit www.extremeengineering.com, or email Philip Wilson at phil@extremeengineering.com.
Media Contact
Company Name:
Perspective North America LLC
Contact Person:
Keisha
Email:
Send Email
Phone:
4077303565
Address:
7380 W Sand Lake Road, Suite 500
City:
Orlando
State:
Florida
Country:
United States
Website:
http://www.perspectivemagazine.com
Source:
www.abnewswire.com
Release ID: 38095