London - February 6, 2023 —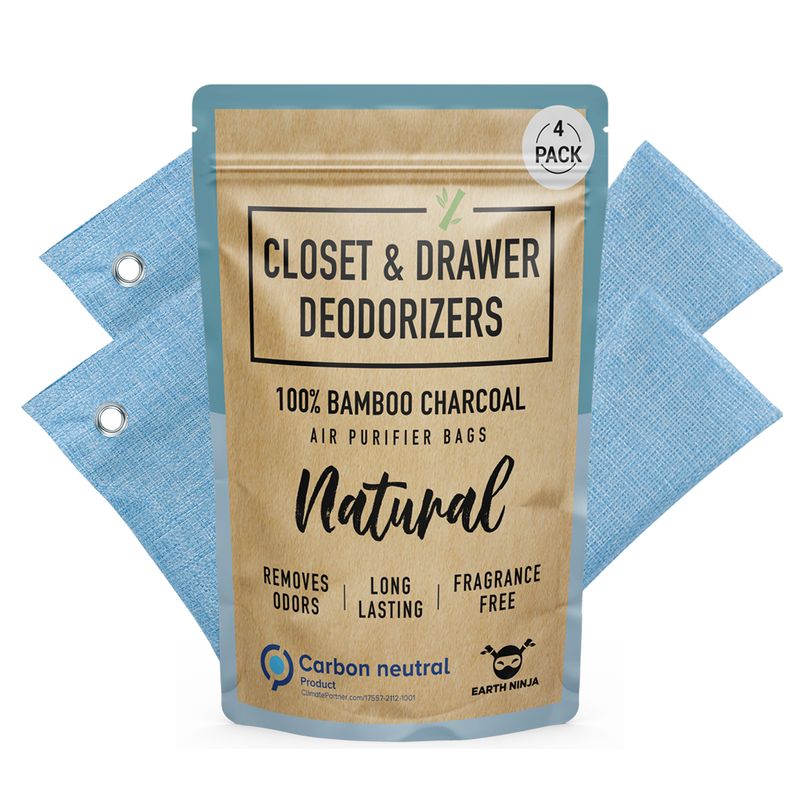 London-based homewares company Ellis Harper Group announces the launch of Earth Ninja Closet and Drawer Deodorizers, a line of carbon neutral and reusable deodorizers made from natural activated charcoal. Absorbing and eliminating odors and moisture, these long-lasting deodorizers are chemical-free and unscented. The 4 pack of odor eliminating charcoal bags is perfect for preventing musty smells in closets and drawers, and is even compostable. All Ellis Harper Group products are climate neutral through Climate Partner.
Discover the power of freshness with our natural and chemical-free closet and drawer deodorizer! Say goodbye to musty odors and hello to a clean and inviting home with our 4 pack of charcoal-based odor eliminator bags. Each bag is unscented, safe and eco-friendly, making it the perfect choice for those who care about the environment.
Not only do they eliminate odors, but they also help to remove excess moisture from the air, preventing musty smells from reoccurring. Long-lasting and easy to use, simply place in your desired location and enjoy the magic. Upgrade your home today with the best natural and chemical-free solution for freshening up your closet and drawers. Order now and feel the difference!
"At Ellis Harper Group, we are committed to creating sustainable products that actually work," says founder Christian Baker. "We understand that the world is changing, and we believe it's important to do our part in finding solutions. Our Earth Ninja Closet and Drawer Deodorizers are just one example of our dedication to this goal."
To celebrate the launch of Earth Ninja Closet and Drawer Deodorizers, Ellis Harper Group is offering a discount of 30% off the list price for a limited time. Simply visit the product page on Amazon and use promo code 30OFFCDDEH at checkout.
Keywords: closet deodorizer, closet odor eliminator, closet deodorizer odor eliminator, closet freshener, closet freshener odor eliminator for clothes, closet air freshener odor eliminating, moisture absorbers for closet, closet dehumidifier, closet air fresheners, closet smell freshener, drawer freshener for clothes, closet freshener odor eliminator, drawer deodorizers, cabinet odor absorber, closet odor eliminator for clothes, closet freshener hanging.
Contact: press@ellisharper.style
Product Link: https://www.amazon.com/dp/B0BRQJ2KD3
Promo Code: 30OFFCDDEH
Contact Info:
Name: Ellis Harper Group
Email: Send Email
Organization: Ellis Harper Group
Website: https://www.amazon.com/dp/B0BRQJ2KD3

Release ID: 89089716