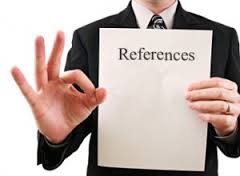 - March 24, 2014 /MarketersMEDIA/ —
"AllisonTaylor.com, a professional reference checking firm, provides written, comprehensive employment reviews of professionals and executives being considered for employment."
Employment background checks are best performed when done discreetly and by a licensed background checking firm. Allison & Taylor Inc., an industry leader, announces discreet and highly detailed $79 background checks for individuals seeking new jobs.
Professional reference checking and employment verification leader, Allison & Taylor Inc., announces $79 employment background checks. Background checks are frequently used to assist individuals in getting hired at a new company or to eliminate negative references from previous employers. This experienced employment background checking and employment verification company has conducted thousands of detailed and discreet reports for prospective job seekers as well as employers, and they are compliant with the Fair Credit Reporting Act.
Employment background checks are often used to discover what a previous employer or superior will say about you; whether positive or negative. Unfortunately, traditional telephone reference checks often come with a downside. Many employers have a policy against providing any information beyond basic information for fear of litigation, but experienced fact finders are able to get beyond simple employment verification and gather insightful feedback in a discreet and detailed manor.
An experienced reference checking agency like Allison & Taylor Inc. will discreetly conduct employment background checks, and they do a much better job because of experience and knowhow. These professional firms execute proven techniques and they have the knowledge to carefully and legally extract accurate and detailed information with discretion. They can also prevent prospective employers from viewing data that might be in violation of state or federal laws, and may execute cease and desist letters when necessary. Also, most legally obtained background check data can only be found by a licensed background check firm.
About Allison & Taylor:
With well over 20 years of experience in reference checking, cease and desist letters and reference checking, Allison & Taylor Inc. has become the nation's leading provider since 1984. This experienced reference check company has been featured on CBSNews.com, NETSHARE.com, the Wall Street Journal, Glamour Magazine, New Woman Magazine, Worth Magazine, The Detroit News, and The St. Petersburg Times. Visit http://www.allisontaylor.com for more info, or call us with question at (800) 890-5645
Media Contact
Company Name:
Allison & Taylor Inc.
Contact Person:
Allison Taylor
Email:
Send Email
Phone:
(800) 890-5645
Address:
318 Cherry St.
City:
Jamestown
State:
NY
Country:
United States
Website:
http://www.allisontaylor.com/
Source:
www.abnewswire.com
Release ID: 37554