Chengdu, Sichuan, China - March 17, 2023 /MarketersMEDIA/ —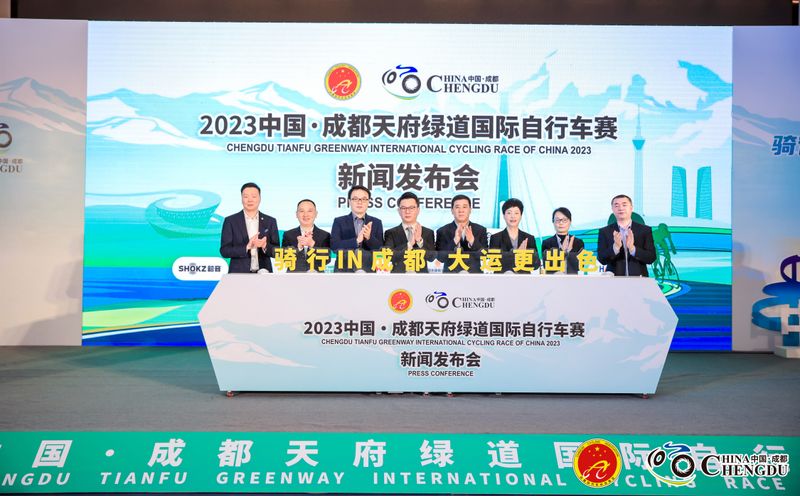 Arranged by China Olympic Sports Industry, the press conference of Chengdu Tianfu Greenway International Cycling Race of China was successfully held on March 16, 2023. Organizing committee announced preparation of the race and revealed the route. Race promotional video was released, and the race sponsors and partners were licensed at the conference. Chengdu Tianfu Greenway International Cycling Race of China 2023 will take place from April 15-16. The race of 2 circuit stages will start in Tianfu Greenway Around-City Eco-Park and finish in Sancha Lake of Eastern New Area in Chengdu. The theme of event is "Cycling in Chengdu, Making Universiade Colorful". During the race, there are many kinds of related activities will be carried out, such as cycling interaction, useful instruction for cycling, sport equipment display, etc. David Lappartient, President of Union Cycliste Internationale (UCI), also made a video presentation to express great attention and high support on this race.
2023 is being focused on in public as the year of holding Chengdu 2021 FISU World University Games and constructing famous sporting city. According to statistics, in 2022 the total sport consumption of Chengdu reached 58.2 billion yuan and the per capita consumption was 2,000 yuan. By holding a series of international and national sport events, Chengdu grasped the opportunities of presenting the city image to the world and promoted the relevant industries of sports. Chengdu also prospectively planned economic development after games to accelerate the process of famous sporting city construction.
According to incomplete statistics, in Chengdu there are almost 2 million cyclists, influencing more than 5 million people. Cyclists of different age groups in Chengdu are from all walks of life. They had cycled 484 million kilometers and the carbon emission was cut 23,500 tons. "The one-hundred kilometers first grade greenway" of Around-City Eco-Park covering 12 districts, 78 bridges and 121 different parks, is like a "Jade Necklace" in Chengdu. Chengdu really deserves the name of "Cycling City". 
Contact Info:
Name: Wang Yishan
Email: Send Email
Organization: China Olympic Sports Industry Co., Ltd
Website: http://www.cosisports.com/

Release ID: 89092099