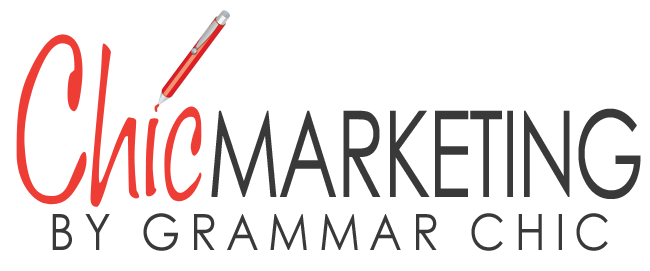 - March 31, 2014 /MarketersMEDIA/ —
Chic Marketing's Amanda E. Clark investigates conflicting forms of traffic generation for online marketers.
There are vague differences between social networking and content marketing that few outside of the realm of online marketing need to know. A recent article on Search Engine Journal sparked commentary from Amanda E. Clark, CEO and editor-in-chief of Chic Marketing by Grammar Chic, Inc.
"Understanding how to use social media to promote content campaigns is essential," Clark said. "But after a time, businesses and marketers will see a disconnect between page views, bounce rates, and conversions."
A conversion, in an online marketing sense, is when an online user performs a desired action on a website. This could be a purchase, adding items to a shopping cart, downloading a PDF booklet, or signing up for a newsletter. Regardless of the conversion, getting visitors to a website is the first step for any online marketing team.
The aforementioned article brings up a common debate among marketers: Is it the amount of page views that matters or the amount of conversions? These two concepts are not correlative, as in an increase in one does not leverage the other. The article details two different forms of content marketing that are often misunderstood by businesses, not to mention marketers who are trying to draw traffic into a website.
Social media is when a business creates content. This content may and should be shared over popular platforms like Google+, LinkedIn, Twitter, and Facebook, though its main purpose is filling out a website with reasons for people to visit. The goal of social media content is to engage visitors in conversations via blog comments, social media sharing, and interest in a business' products and services. This "social media" content, as told by the article, is hosted through a business' website.
Social networking, on the other hand, is when marketers utilize other websites for pushing content. The previously mentioned platforms are known for this tactic. Unfortunately, content on social networking sites like Facebook is highly temporary. Most posts, according to the article, disappear within three hours.
"Content you publish on social networks like Facebook, whether it's a link to a blog post or a status, does draw people into your website," Clark said. "However, most of these visitors turn into bounce rate statistics, or when a person visits a site and leaves without converting."
There are subtle differences between social media marketing and social networking, though the results of either one are telling. Social networking is a push effect that draws mobs of traffic to websites that rarely convert. Social media (i.e., content published through a business' online assets), on the other hand, is a pull tactic that engages visitors who are interested in learning about a topic, investigating a business, or making a purchase.
"How many page views you get doesn't paint an accurate picture of how successful your marketing strategy is," Clark said. "It boils down to bringing in traffic that is actively or potentially interested in converting."
Social media and content marketing, as mentioned previously, works when visitors go to sites and find what they want to find. Traffic that is "pushed" through paid promotions and social spamming rarely expects to find anything on a site and usually clicks a link out of blind curiosity. Both forms of marketing are necessary in today's online arena, Clark said, though marketers need to focus their efforts on pulling traffic into their websites that is naturally intrigued, not forced.
About:
A professional writing company located in Charlotte, North Carolina, Chic Marketing by Grammar Chic, Inc. is passionate about helping its clients shine through superior content. The team employs all in-house, American writers who are seasoned and adept in content marketing, social media marketing, Web content writing, blogging and more. Grammar Chic's CEO, Amanda E. Clark, is a nationally known thought leader in digital marketing and copywriting. To learn more about Grammar Chic, Inc. and the services it offers, visit www.grammarchic.net. Interested individuals are invited to "like" the company's Facebook page and follow @GrammarChicInc on Twitter.
Media Contact
Company Name:
Chic Marketing
Contact Person:
Amanda E. Clark
Email:
Send Email
Phone:
803-831-7444
Country:
United States
Website:
http://www.chiccontentwriting.com/
Source:
www.abnewswire.com
Release ID: 38601