New York, United States - May 20, 2023 /MarketersMEDIA/ —
When you have an adorable cat, you want to provide it with the best quality of life possible. That's where Charmkit Smart Automatic Litter Box comes in. In addition to its basic function of automatically cleaning the litter, Charmkit committed to providing comprehensive safety, comfort, and hygiene for your pet.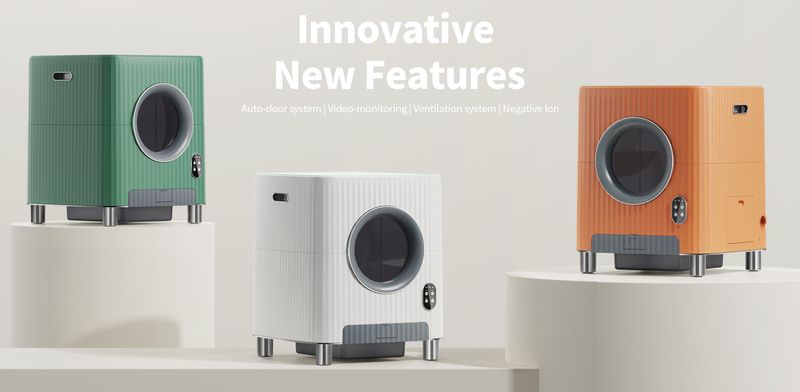 First of all, Charmkit litter box is equipped with various advanced technologies such as gravity sensing, RIP infrared sensing, radar scanning, automatic door system, and motor load sensing current system to ensure the safety of your cat while using it. When your cat enters the litter box, the machine immediately stops cleaning to avoid any safety accidents. The high sensitivity of these systems also ensures that the machine recognizes your pet's presence to the fullest extent possible, ensuring that the machine does not accidentally harm your pet during operation.
Secondly, Charmkit smart self-cleaning litter box is equipped with an automatic door system, intelligent ventilation system, and contactless garbage bag system, so you no longer have to see, smell, or touch the litter with odor. As soon as you pour the litter from the top of the litter box, you will no longer have to worry about unpleasant odors.
Finally, Charmkit Smart Self-Cleaning Litter Box not only automatically cleans the litter but also comes with a 24-hour video monitoring system, fecal photo health monitoring system, and gravity sensing system for comprehensive monitoring. With Charmkit' mobile app, you can check your pet's status and health anytime, anywhere, ensuring that your pet receives the best care. No matter where you are, your beloved cat will be well taken care of and monitored.
Charmkit is committed to providing the best quality of life for your pet. Charmkit smart automatic litter box is designed to provide your pet with a healthier and more comfortable life while saving you time and effort. Join Charmkit to create a better life for your pets.
Charmkit automatic litter box is now available on Indiegogo.
Learn more here:
Indiegogo:https://www.indiegogo.com/projects/charmkit-world-s-first-video-monitored-litter-box/coming_soon/x/33480861
Contact Info:
Name: Alan Huang
Email: Send Email
Organization: Charmkit
Website: https://charm-kit.com/

Release ID: 89098002